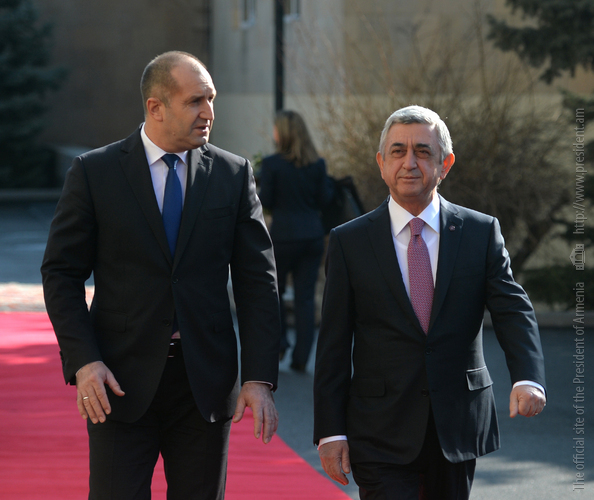 12/02/2018 20:43
Official welcoming ceremony for President of Bulgaria held at Presidential Palace
At the invitation of President Serzh Sargsyan, President Rumen Radev of the Republic of Bulgaria arrived in the Republic of Armenia on State visit with his spouse.
President Serzh Sargsyan and Mrs. Rita Sargsyan greeted President Rumen Radev and Mrs. Dessislava Radeva at the Presidential Palace. After the official welcoming ceremony, Presidents Serzh Sargsyan and Rumen Radev held a private meeting.
Welcoming President Radev to Armenia, President Sargsyan expressed the hope that the Bulgarian President's visit would be successful, and President Radev would be back to friendly Bulgaria with fond impressions and many agreements reached during the trip.
"Over ten years have already passed since my visit to Bulgaria. I very much enjoyed my stay in your country as it was full of warmth and manifestations of sincere friendship. It is a pleasure to state, Mr. President, that we have made serious achievements during the past 25 years. While the potential inherent in bilateral relations has not been tapped in full, I should note that we have recorded normal achievements due to the fact that our relationship is based on deeply rooted friendship.
Mr. President, taking this opportunity, I would like to congratulate Bulgaria on your presidency in the Council of the European Union and wish you every success in meeting your presidency priorities. It is as much important for us, since we are striving to get closer to the European Union. Once again, welcome to Armenia," President Sargsyan said.
Thanking President Serzh Sargsyan for the invitation to visit Armenia, the Bulgarian President stressed that he was pleased with it.
"The relations between our two countries are not just friendly: they are truly friendly in terms of history. As you mentioned, our peoples have much in common from the perspective of history, and they entertain great respect and love for each other.
We even owe it to our nations because they are looking forward to a more dynamic relationship. This visit, which follows your invitation, comes to fill the gap. I mean that there was no such a visit paid for over ten years now. And this is the best prerequisite for developing our relationships in all areas.
I am glad that this visit will have a specific bias as we are going sign four landmark documents of cooperation. I have four members in my delegation, which are the presidents of our most important organizations and, in this sense, I hope that our relations will be overhauled in the spheres of trade and economy," Bulgarian President Rumen Radev said during the private talks with President Serzh Sargsyan.
Ucom
- broadband connection starting at AMD 6,000
AMD Rates
08:53 13/12
Buy
Sell
AMD / USD
484.50
486.50
AMD / EUR
550.00
554.00
AMD / RUR
7.29
7.39
dollars
dollars
BTC/USD
3443.1340647
-1.57%
ETH/USD
89.7417019999
-2.69%
BCH/USD
102.076223513
-3.85%
XRP/USD
0.3048521523
-0.84%
LTC/USD
24.4886297826
-0.86%
BTC
59,974,833,254
-1.56%
XRP
12,476,672,851
-0.84%
Molybdenum
26000.00
+0.00%
Dow Jones
24527.27
+0.64%
Hang Seng
26524.35
+1.29%
CBA Interest Rates
Refinancing
Refinancing Rate
6.00
+0.00
Lombard Repo
Lombard Repo Rate
7.50
+0.00
Macroeconomy
CEA
Coefficient of Economic Activity
+6.00%
Ind. Prod.
3
Volume of Industrial Production
1,408.751
+4.5%
Avg. Salary
2
Average salary
168,518
+3.70%
Services
3
Volume of services
1,426.759
+18.50%
Construction
3
Volume of construction
288,754
+6.50%
1 - mln AMD, 2 - AMD, 3 - bln AMD