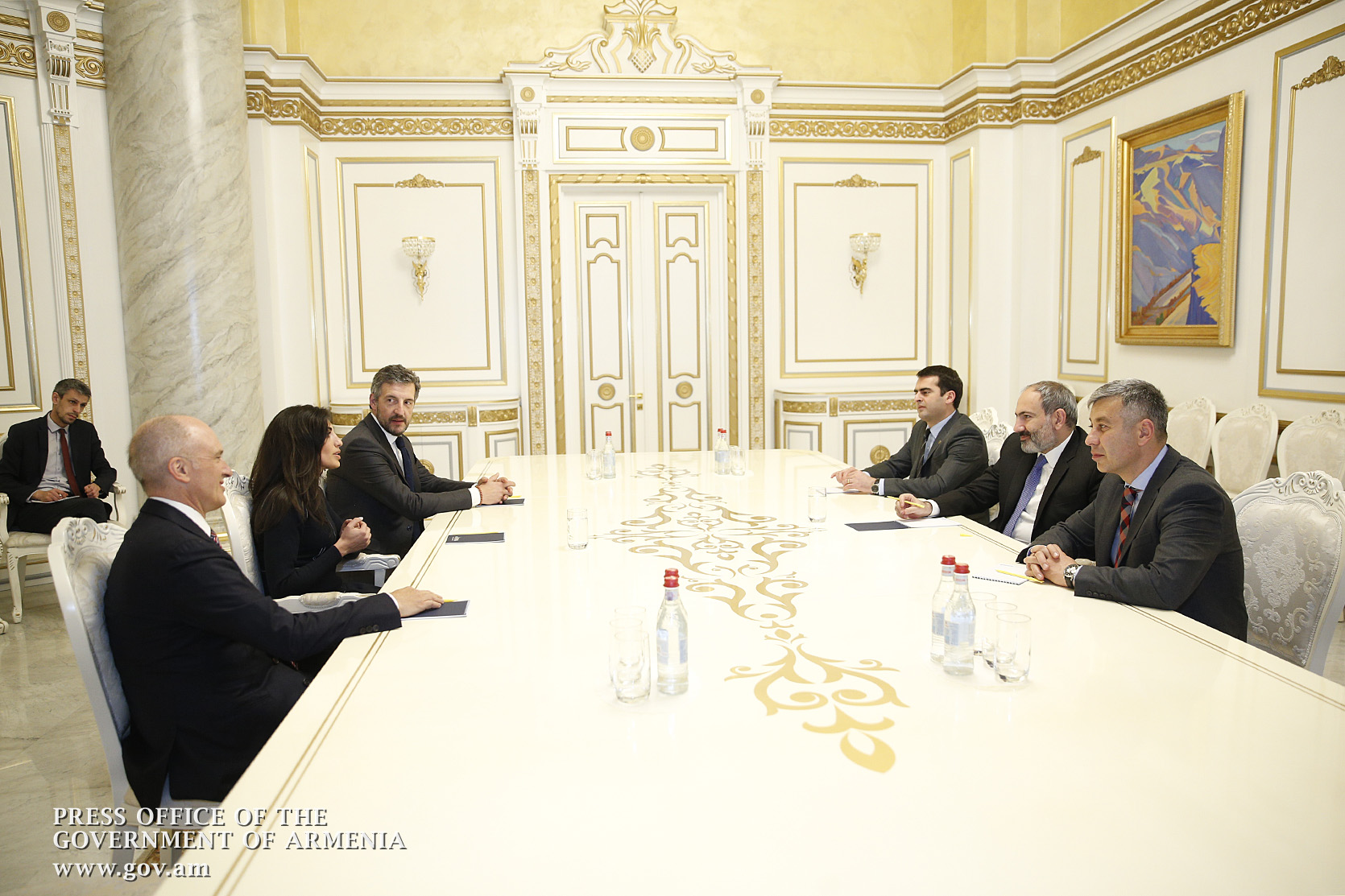 14/03/2019 22:12
RA Prime Minister, Index Ventures executives discuss prospects for launching activities in Armenia
Prime Minister Nikol Pashinyan received a delegation of Index Ventures venture foundation, including founder Nina Achadjian, Mike Volpi and Dominique Vidal, who were involved in Cisco, Amazon, Yahoo and other well-known companies before coming to Index Ventures. The meeting was attended by RA Minister of Transport, Communication and Information Technologies Hakob Arshakyan.
During the meeting, the Prime Minister was briefed on the activities carried out by Index Ventures and their plans to get involved in Armenia. Highly appreciative of the positive developments taking place in Armenia's IT sector, they expressed interest in launching and developing cooperation with Armenian partners. In addition to technological and engineering projects, Index Ventures is going to introduce the ways of getting investments in Silicon Valley and the trends in the technological sphere.
Welcoming Nina Achadjian's delegation to Armenia, Nikol Pashinyan hailed their initiatives to cooperate with local companies and implement investment programs in our country. The Premier emphasized that the IT sector is one of the priorities of the Armenian government, and the Executive's goal is to have a technology-driven economy in the future. Noting that the Government of Armenia is keen to cooperate with Index Ventures, Nikol Pashinyan discussed the latter's investment proposals. The Prime Minister stressed that the Government is taking consistent steps to improve the business environment.
AMD Rates
10:47 17/08
Buy
Sell
AMD / USD
475.00
477.00
AMD / EUR
526.00
531.00
AMD / RUR
7.18
7.26
dollars
dollars
BTC/USD
9677.77535725
-0.98%
ETH/USD
178.906261619
-1.98%
BCH/USD
289.683362563
-4.94%
XRP/USD
0.2564523101
-1.29%
LTC/USD
73.1957456708
-0.93%
BTC
173,012,977,283
-0.98%
ETH
19,201,528,584
-1.98%
XRP
10,999,421,236
-1.29%
Molybdenum
26081.00
+0.43%
Dow Jones
25886.01
+1.20%
Hang Seng
25734.22
+0.94%
CBA Interest Rates
Refinancing
Refinancing Rate
5.75
+0.00
Lombard Repo
Lombard Repo Rate
7.25
+0.00
Macroeconomy
CEA
Coefficient of Economic Activity
+6.50%
Ind. Prod.
3
Volume of Industrial Production
900.5
+6.90%
Avg. Salary
2
Average salary
176,783
+5.60%
Services
3
Volume of services
905.4
+15.3%
Construction
3
Volume of construction
131.0
+4.70%
1 - mln AMD, 2 - AMD, 3 - bln AMD