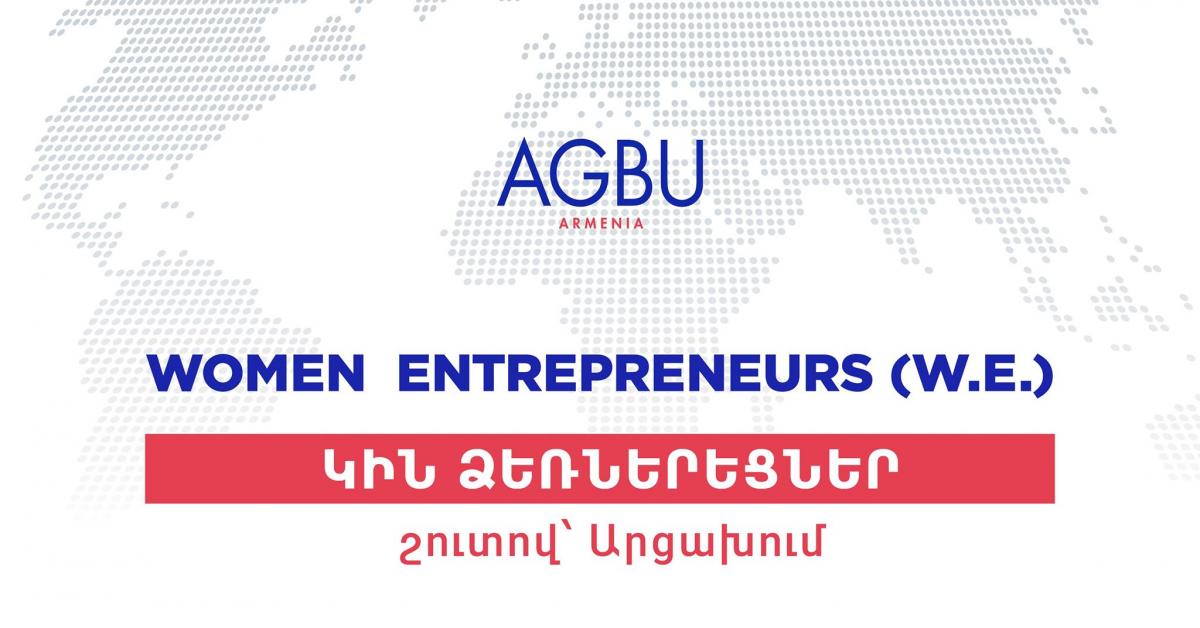 08/04/2019 22:43
AGBU Armenia and Fruitful Armenia join efforts to launch AGBU Women Entrepreneurs project in Artsakh
AGBU Armenia, together with Fruitful Armenia Charity Foundation, is taking its Women Entrepreneurs project to women in Artsakh. The project, implemented in the framework of the AGBU Women Empowerment program launched in Armenia in 2017, looks to boost women's entrepreneurial skills and teach them how to apply those in the world of business.
"For a country to develop properly, you must invest in different sectors of its economy to stimulate economic activity. The establishment of enterprises, the creation of new jobs, and the promotion of export are all key to economic development. This is why we are joining AGBU in supporting women entrepreneurs in Artsakh by helping them expand their knowledge of finance and entrepreneurship," says Jorge Del Aguila-Eurnekian, Board Member of Fruitful Armenia Foundation and Converse Bank. The Women Entrepreneurs project also offers new opportunities for Armenian women to be more effectively involved in the development of the country's economy, adds Del Aguila-Eurnekian.
AGBU Armenia and Fruitful Armenia plan on launching Women Entrepreneurs in Artsakh in June 2019.
Vasken Yacoubian, President of AGBU Armenia and Member of AGBU Central Board, believes that only by strengthening women's entrepreneurial skills and emphasizing their role in the economy will Armenian society develop and prosper. "Giving women in Armenia an equal share of the economic pie and offering them economic independence will help them improve their decision-making skills," says Vasken Yacoubian.
The entrepreneurship course developed together with the American University of Armenia' Extension program will equip Armenian woman entrepreneurs with the necessary knowledge of finance and entrepreneurship needed to realize their business ideas and see them through. All course participants will be given the chance to apply for a small grant, as well as receive year-long business consultations and the opportunity to network with business professionals during the handholding stage.
Established in 1906, the Armenian General Benevolent Union (AGBU) is the world's largest non-profit Armenian organization. Headquartered in New York City, AGBU preserves and promotes the Armenian identity and heritage through educational, cultural and humanitarian programs, annually touching the lives of some 500,000 Armenians around the world. For more information about AGBU and its worldwide programs, please visit www.agbu.org . More about AGBU Armenia at www.agbu.am.
The Fruitful Armenia Foundation was established in 2001 by Argentine-Armenian philanthropist, entrepreneur Eduardo Eurnekian. The Foundation has supported $8 million dollars' worth of economic, health, educational and infrastructural development projects in Armenia and Artsakh. The Foundation's "Nur" project donated more than 10,500 computers to schoolchildren in Artsakh and trained teachers and students in the most recent education best practices.
Ucom
- broadband connection starting at AMD 6,000
AMD Rates
10:48 20/07
Buy
Sell
AMD / USD
475.50
477.00
AMD / EUR
534.00
538.00
AMD / RUR
7.54
7.63
dollars
dollars
BTC/USD
10524.2372188
+6.31%
ETH/USD
221.836763634
+1.69%
BCH/USD
311.528445809
+3.83%
XRP/USD
0.3197712784
+1.49%
LTC/USD
97.0547543506
+5.10%
BTC
187,598,475,014
+6.32%
ETH
23,727,557,514
+1.70%
XRP
13,696,668,825
+1.49%
Platinum
12929.39
+109.11
Molybdenum
25970.00
+0.85%
Dow Jones
27154.20
-0.25%
Hang Seng
28765.40
+1.07%
CBA Interest Rates
Refinancing
Refinancing Rate
5.75
+0.00
Lombard Repo
Lombard Repo Rate
7.25
+0.00
Macroeconomy
CEA
Coefficient of Economic Activity
+7.30%
Ind. Prod.
3
Volume of Industrial Production
733.1
+5.60%
Avg. Salary
2
Average salary
176,215
+5.40%
Services
3
Volume of services
737.3
+16.50%
Construction
3
Volume of construction
97.3
+6.10%
1 - mln AMD, 2 - AMD, 3 - bln AMD