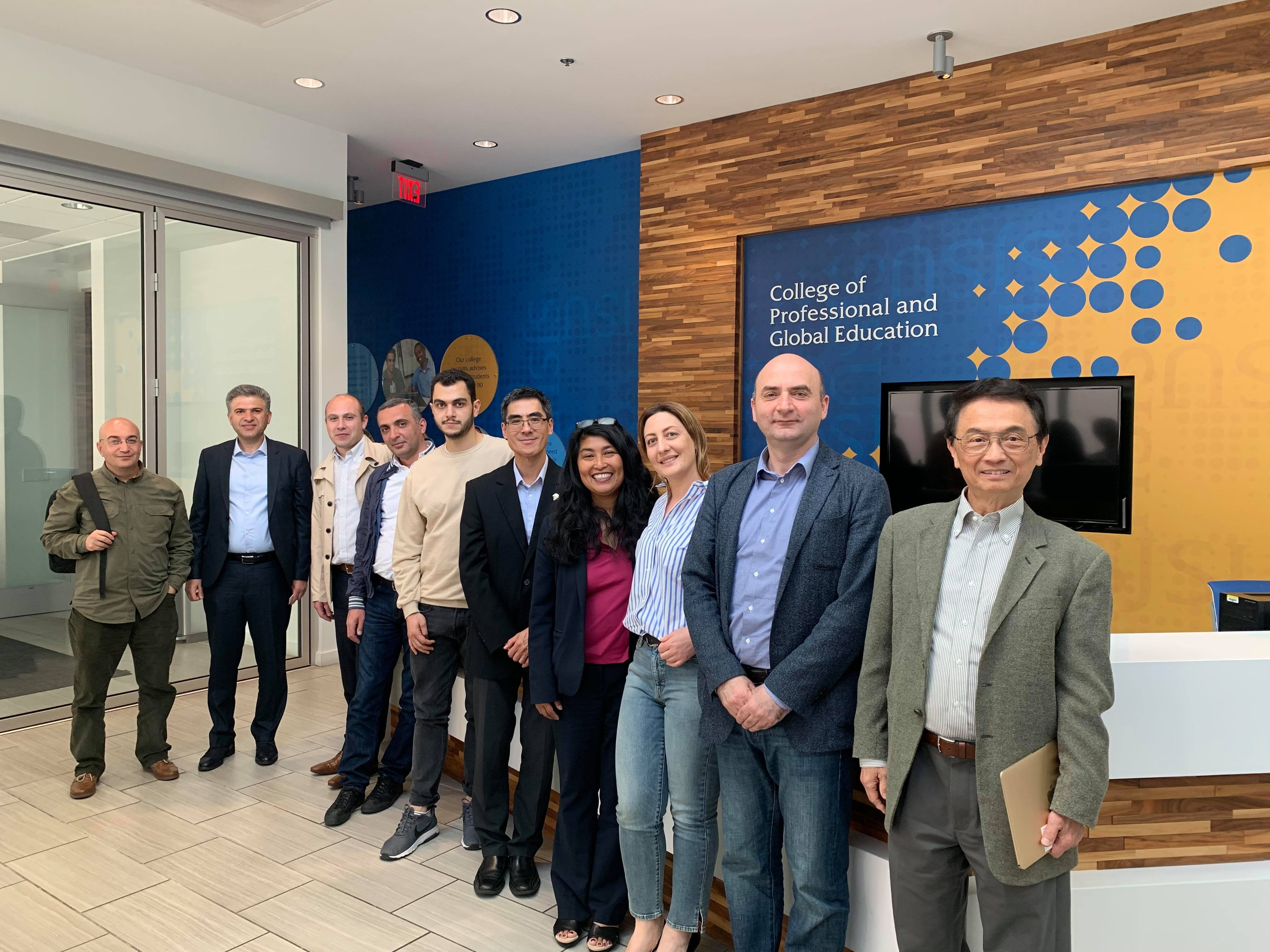 03/05/2019 20:22
Professors of Yerevan State University and San Jose State University develop joint Master program with EIF support
Enterprise Incubator Foundation (EIF) delegation visited San Jose State University (SJSU) on April 30, in the scope of a working trip to San Francisco.
The visit aims to develop business collaboration between EIF and SJSU.
"The expertise exchange with San Jose State University is very important, as it will bring the global experience to the Data Science field of Armenia. I would like to announce that first round of joint work is completed and Curriculum of Master program in YSU Data Science is fully in compliance with SJSU requirements, which is a result of 6 months intense work. Now we are discussing plan of permanent visits of our students and professors to SJSU and from SJSU to Armenia," Enterprise Incubator Foundation Director Bagrat Yengibaryan noted.
In the framework of the cooperation, students admitted to YSU's joint Master's program of Data Science for Business in September, will have a unique chance to spend one year in San Jose State University and get SJSU diploma, which is an important step towards launching dual degree program between YSU and SJSU.
In addition, a group of 5 students and 2 professors from ISTC and Yerevan State University joint Master's program of Data Science for Business is currently in San Jose State University, where they are discussing their master theses and opportunities for future collaboration with US professors.
During the visit, the students attended the Data Analytics Seminar, where the speakers from Intel and Microsoft shared their knowledge and experience with them.
Synopsys Armenia President Dr. Yervant Zorian hosted the ISTC group for a visit at the company. The students also successfully presented their graduation theses to SJSU faculty members and got professional advice and comments to improve the final version of their thesis. The ISTC group will participate in various workshops and events in the field of data science.
In addition, YSU and SJSU professors continue working on the development of a joint Master program where the key element is the Master projects, curated by San Jose University.
AMD Rates
09:48 30/05
Buy
Sell
AMD / USD
482.00
486.00
AMD / EUR
527.00
533.00
AMD / RUR
6.78
6.90
dollars
dollars
ETH/BTC
0.02258015
-1.94%
BCH/BTC
0.02530965
-1.33%
XRP/BTC
0.00002140
-3.08%
LTC/BTC
0.00476372
-1.17%
Molybdenum
18805.00
-0.82%
Dow Jones
25383.11
-0.07%
Hang Seng
23301.36
-0.36%
CBA Interest Rates
Refinancing
Refinancing Rate
5.00
+0.00
Lombard Repo
Lombard Repo Rate
6.50
+0.00
Macroeconomy
CEA
Coefficient of Economic Activity
-1.7%
Ind. Prod.
3
Volume of Industrial Production
585.21
+4.20%
Avg. Salary
2
Average salary
191,623
+9.30%
Services
3
Volume of services
585.44
+0.1%
Construction
3
Volume of construction
54.03
-21.9%
1 - mln AMD, 2 - AMD, 3 - bln AMD