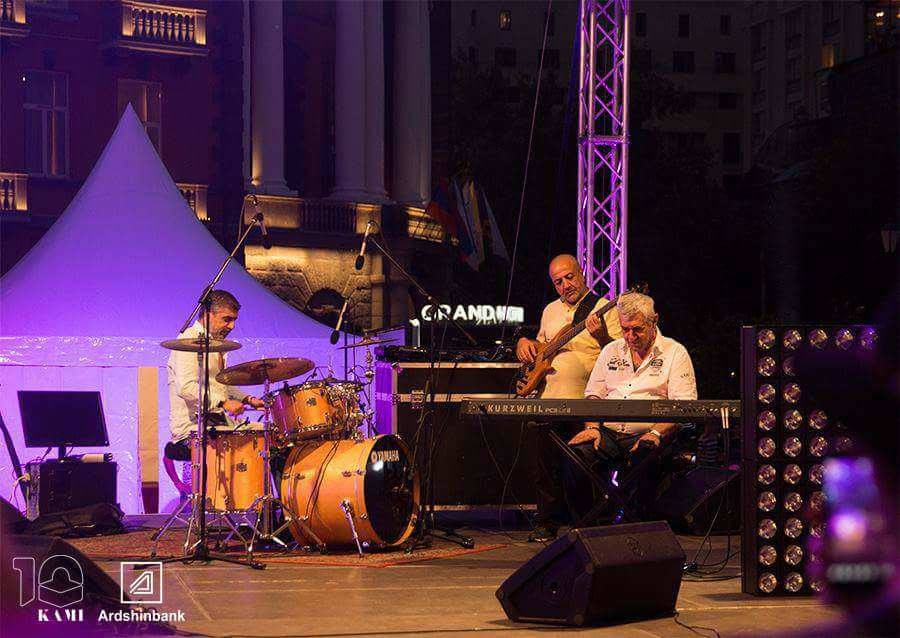 19/09/2017 19:00
The surprise is revealed: Lou Bega performed for the Armenian audience at Yerevan Music Night with the support of Ardshinbank
On September 16, Charles Aznavour Square hosted Yerevan Music Night featuring jazz and pop performances. The first-time event became unforgettable when later in the evening the world famous singer Lou Bega surprisingly appeared on the stage.
"Today we can confidently say that Yerevan Music Night achieved a major success and turned into a real music holiday for all of us. Ardshinbank continuously supports the implementation of various cultural events. This time, the Bank has not been indifferent either. With our support, the renowned singer performed for the Armenian audience, giving them a real celebration and making another memorable day," said Armen Gasparyan, Strategic Development Director at Ardshinank.
The event was realized jointly by Ardshinbank and the organizers of KAMI Music Club and Yerevan Wine Days. Keeping the festive moods of the audience celebrated Armenian singers performed at the event as well. Lou Bega finalized the meeting by performing the most popular hits on his repertoire, including "Mambo No. 5" and "I Got a Girl".
--------
Ardshinbank is the second largest bank in Armenia with a broad sales network (64 branches). It is the only private entity in Armenia with assigned ratings from two international major rating agencies (Moody's and Fitch) equal to the rating of Sovereign.
Ardshinbank
09:49 21/10
Buy
Sell
AMD / USD
480.00
483.50
AMD / EUR
566.00
574.00
AMD / RUR
8.23
8.50
dollars
dollars
Molybdenum
16000.00
+0.00%
Dow Jones
23328.63
+0.71%
Hang Seng
28487.24
+1.17%
CBA Interest Rates
Refinancing
Refinancing Rate
6.00
+0.00
Lombard Repo
Lombard Repo Rate
7.50
+0.00
Macroeconomy
CEA
Coefficient of Economic Activity
+5.5%
Ind. Prod.
3
Volume of Industrial Production
1,038.734
+12.4%
Avg. Salary
2
Average salary
190,005
+2.5%
Services
3
Volume of services
904,143
+12.4%
Construction
3
Volume of construction
179,927
-8.0%
1 - mln AMD, 2 - AMD, 3 - bln AMD