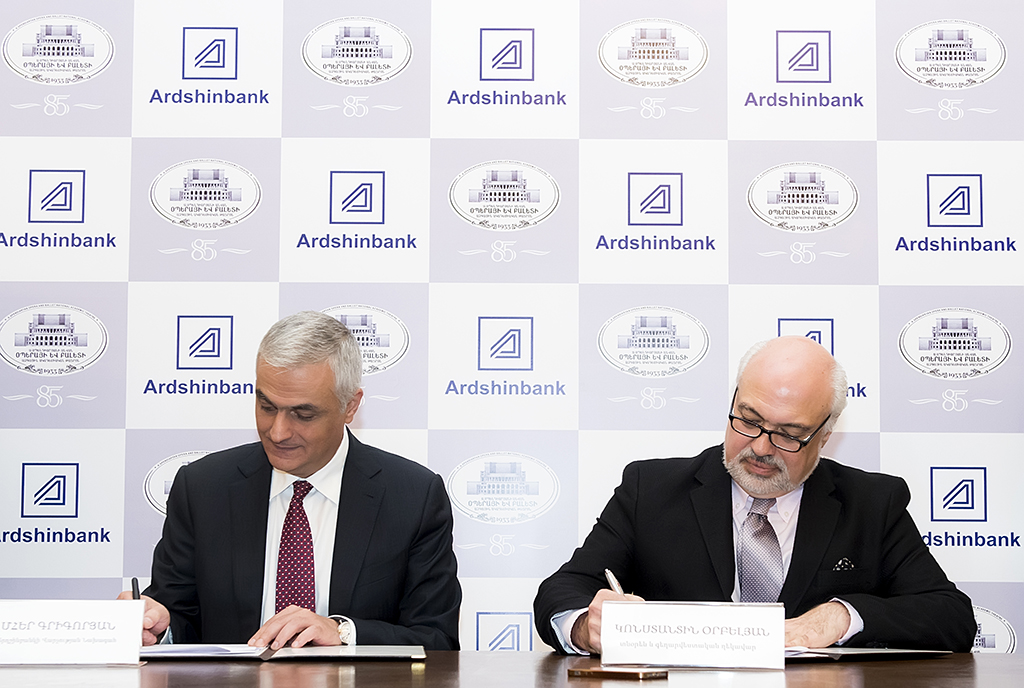 28/09/2017 18:57
Ardshinbank - General Sponsor of Armenian National Academic Theatre of Opera and Ballet named after A. Spendiaryan
Ardshinbank and the Armenian National Academic Theatre of Opera and Ballet named after A. Spendiaryan announced their partnership. Within the scope of the partnership the Bank is going to assist the Theater with financial assistance amounting to AMD 100 million. The ceremony of signing the Memorandum of Cooperation, with participation of RA Minister of Culture, Armen Amiryan, Chairman of the Management Board of Ardshinbank, Mher Grigoryan and Artistic Director of the Theater, Constantine Orbelian, was held at the National Academic Theatre of Opera and Ballet.
Ardshinbank's support is aimed at fostering the further development of the Theater, enhancing the cultural life of the country, preserving and transmitting traditions through generations, as well as the future progress of opera, ballet and theatre culture among the public.
"Today Ardshinbank is officially taking over the mission to contribute to one of the most essential spheres of the country. Considering the key development of culture and art in our country, as well as the preservation of cultural heritage, the Bank's benevolent programs will be aimed at the development of this sphere. This way of communication with the public is the most effective one, for what is transmitted through culture is universal, beautiful and pure, allowing to appreciate the values and aspire for perfection. The status of the general sponsor of the Theater is a great honor and responsibility for the Bank. We are convinced that this support will create new values. What's more, we do not consider this a charity. It is a single-minded investment in the future, where the beneficiaries are both the society and the business", said Mher Grigoryan, Chairman of the Management Board of Ardshinbank.
"We are sure that the partnership with Ardshinbank will encourage the further success of Armenian National Academic Theatre of Opera and Ballet. The fact that one of the most prestigious banks in Armenia has undertaken the task of supporting high culture is both honorable and binding. The material resources to be obtained as a result of partnership with the Bank will be targeted at new performances, including the ones for children, which we hope to find a worthy place in the golden fund of the Theater," concluded Constantine Orbelian, Artistic Director at A. Spendiaryan Opera and Ballet National Academic Theatre.
----------
Ardshinbank is the second largest bank in Armenia with a broad sales network (64 branches). It is the only private entity in Armenia with assigned ratings from two international major rating agencies (Moody's and Fitch) equal to the rating of Sovereign.
AMD Rates
09:59 20/01
Buy
Sell
AMD / USD
480.50
482.50
AMD / EUR
588.00
593.00
AMD / RUR
8.48
8.56
dollars
dollars
Molybdenum
16000.00
+0.00%
Dow Jones
26017.81
+0.00%
Hang Seng
32254.89
+0.41%
CBA Interest Rates
Refinancing
Refinancing Rate
6.00
+0.00
Lombard Repo
Lombard Repo Rate
7.50
+0.00
Macroeconomy
CEA
Coefficient of Economic Activity
+7.3%
Ind. Prod.
3
Volume of Industrial Production
1,491.375
+12.3%
Avg. Salary
2
Average salary
189.631
+2.6%
Services
3
Volume of services
1,311.188
+14.2%
Construction
3
Volume of construction
324.558
+0.3%
1 - mln AMD, 2 - AMD, 3 - bln AMD