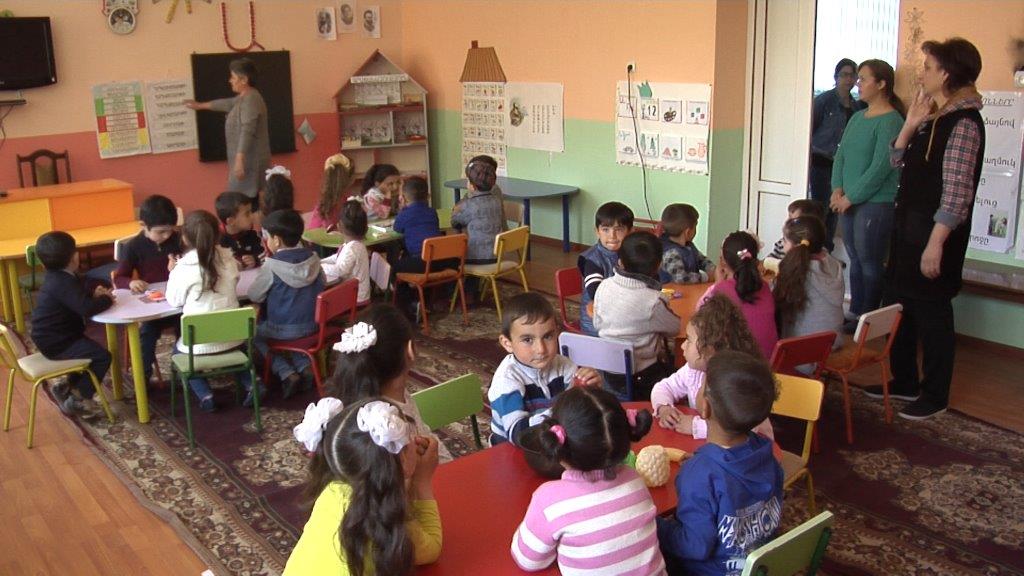 31/05/2018 12:41
Vivacell-MTS: The problem of heating in the kindergarten of the village of Agarakadzor to be solved this year
The kindergarten in the village of Agarakadzor, Aragatsotn marz, has been operating for 37 years – since 1981. The building of the institution never had a heating after the demise of the Soviet system. As a temporary solution the building was equipped with stoves to provide conditions for kids. The wood for fuel was provided by the parents, and the head of the village. Later the wooden stoves were replaced with electric ones.
The kindergarten operates only 7-8 months a year due to the lack of local heating system. Providing the necessary temperature is hard when there is only one electric stove in each group and the bedroom; it is also a matter of safety. Kids often get sick here. The teachers' work suffers, too: the efficiency of the educational process is poor because of the long breaks.
"If the kindergarten gets the heating we will work the year round and will properly manage to equip the kids for school. We dream of seeing the problem solved one day and to be able to organize the works efficiently," says the principal of the kindergarten Nakhshun Beglaryan.
The problem of heating the kindergarten in Agarakadzor will be solved thanks to the cooperation between VivaCell-MTS and Foundation for the Protection of Wildlife and Cultural Assets. The kindergarten has been included in the network of ecovillages 2018 list.
AMD Rates
09:07 23/05
Buy
Sell
AMD / USD
478.50
480.50
AMD / EUR
532.00
537.00
AMD / RUR
7.43
7.51
dollars
dollars
BTC/USD
7940.79383577
+0.49%
ETH/USD
257.538752001
+3.09%
BCH/USD
415.882283347
+2.54%
XRP/USD
0.4004827583
+2.17%
LTC/USD
91.7253637885
+1.68%
BTC
140,669,868,451
+0.50%
ETH
27,342,843,393
+3.11%
XRP
16,867,003,244
+2.17%
Molybdenum
26566.00
+0.00%
Dow Jones
25776.61
-0.39%
Hang Seng
27267.13
-1.58%
CBA Interest Rates
Refinancing
Refinancing Rate
5.75
+0.00
Lombard Repo
Lombard Repo Rate
7.25
+0.00
Macroeconomy
CEA
Coefficient of Economic Activity
+5.80%
Ind. Prod.
3
Volume of Industrial Production
1,737.7
+4.30%
Avg. Salary
2
Average salary
172,357
+3.80%
Services
3
Volume of services
1,764.7
+18.80%
Construction
3
Volume of construction
422.3
+4.50%
1 - mln AMD, 2 - AMD, 3 - bln AMD