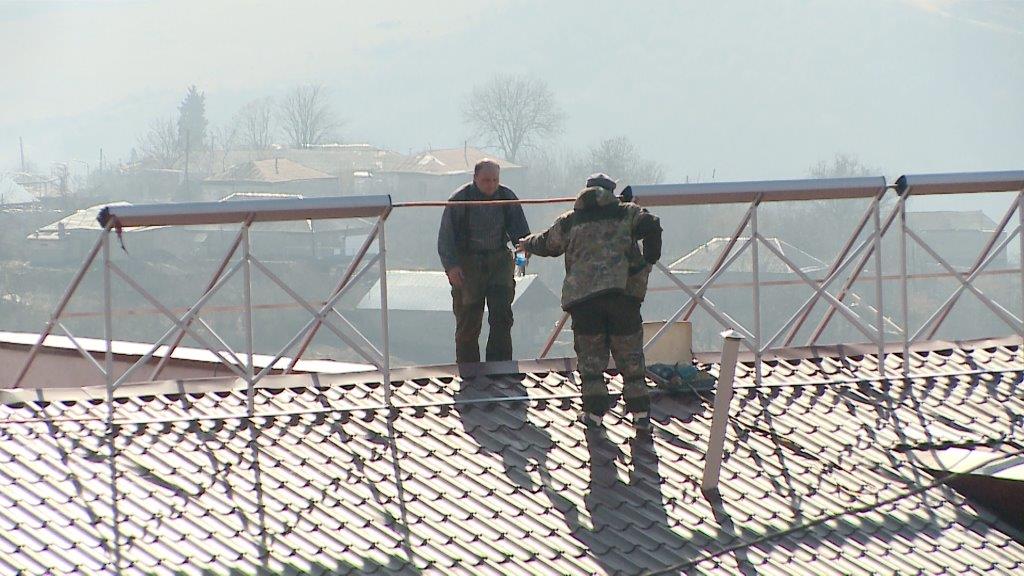 28/02/2019 22:34
Vivacell-MTS. Solar water heater in the kindergarten of border village of Voskevan
Development of border villages remains an important goal for VivaCell-MTS and Foundation for the Preservation of Wildlife and Cultural Assets (FPWC). Viewing alternative energy as an environmental and economic means to achieve the goal the partners have started yet another joint program in Tavush. In the kindergarten of Voskevan intensive works are being implemented with the purpose of replenishing the existing heating system with solar water heater.
Opened some five years ago, the kindergarten has a protected location and is safe against the potential bullets of the adversary. It has the capacity to accommodate 50-60 kids. Unfortunately, though, it is not operating to the full extent. Ensuring the necessary temperature for the kids and to heat the two-storied building is quite expensive, particularly, in the winter months, the management of the kindergarten says.
"There are currently 30 children regularly attending the kindergarten. We could have two groups, but have only one. We hadn't worked in the previous years because of problems with the heating. We work this year because we have got gas supply in the building and boilers for each floor. But we use only the one for the first floor. The second floor has a hall, a piano, kids have facilities to train on the second floor, but we cannot organize that because of the low temperatures. If we cannot provide the heating of the building we have to terminate all works," said acting principal of the kindergarten Nona Muradyan.
Using Armenia's favorable weather conditions in the border villages has become an important aim for VivaCell-MTS and FPWC. The implemented works will soon be completed. The partners expect to achieve not only ecological, but also economic effectiveness.
"Voskevan is a border village: shootings are frequent here, and the situation gets escalated every now and then. Despite this situation, people pay significant attention to the young generation. A lot of kids in Voskevan could attend kindergarten but are deprived of that chance because of the conditions. Besides, the community has other serious problems that demand urgent solutions. After solving this problem the saved means will be used for the solution of others," said head of Voskevan administration Vladimir Ghazinyan.
New system will help to reduce the community's expenses for the kindergarten heating for almost 40%, which is very important for border villages with other problems.
-----------
VivaCell-MTS (MTS Armenia CJSC) is Armenia's leading telecommunications operator, having the widest network reach and spreading a wide range of Voice and Data services all across Armenia. Having the best of the Armenian people interest at heart since its launch on 1st July 2005 and in a short period of time VivaCell-MTS has managed to build a nationwide network and a considerable customer base. VivaCell-MTS drives innovation and aims at always being at the forefront of any development serving the Armenian mobile communications market. The company follows the guidance provided by ISO 26000 (International Standard of Social Responsibility) and ISO/IEC 27001:2013 (Information Security Management System). For more information, visit www.mts.am
Mobile TeleSystems PJSC ("MTS") is the leading telecommunications group in Russia and the CIS, offering mobile and fixed voice, broadband, pay TV as well as content and entertainment services in one of the world's fastest growing regions. Including its subsidiaries, the Group services over 100 million mobile subscribers in Russia, Ukraine, Turkmenistan, Armenia and Belarus. Since June 2000, MTS' Level 3 ADRs have been listed on the New York Stock Exchange (ticker symbol MBT). Additional information about the MTS Group can be found at www.mtsgsm.com
Ucom
- broadband connection starting at AMD 6,000
AMD Rates
10:00 15/06
Buy
Sell
AMD / USD
477.50
479.50
AMD / EUR
537.00
541.50
AMD / RUR
7.38
7.46
dollars
dollars
BTC/USD
8256.32171067
+1.70%
ETH/USD
256.446790822
-0.87%
BCH/USD
411.106737754
+3.40%
XRP/USD
0.4001441797
-1.08%
LTC/USD
130.60808613
-3.47%
BTC
146,614,728,898
+1.71%
ETH
27,306,992,697
-0.86%
XRP
17,006,907,967
-1.08%
Molybdenum
27293.00
+0.00%
Dow Jones
26089.61
-0.07%
Hang Seng
27118.35
-2.41%
CBA Interest Rates
Refinancing
Refinancing Rate
5.75
+0.00
Lombard Repo
Lombard Repo Rate
7.25
+0.00
Macroeconomy
CEA
Coefficient of Economic Activity
+7.00%
Ind. Prod.
3
Volume of Industrial Production
573.6
+4.50%
Avg. Salary
2
Average salary
177,171
+6.20%
Services
3
Volume of services
575 50
+17.00%
Construction
3
Volume of construction
68.2
+8.00%
1 - mln AMD, 2 - AMD, 3 - bln AMD