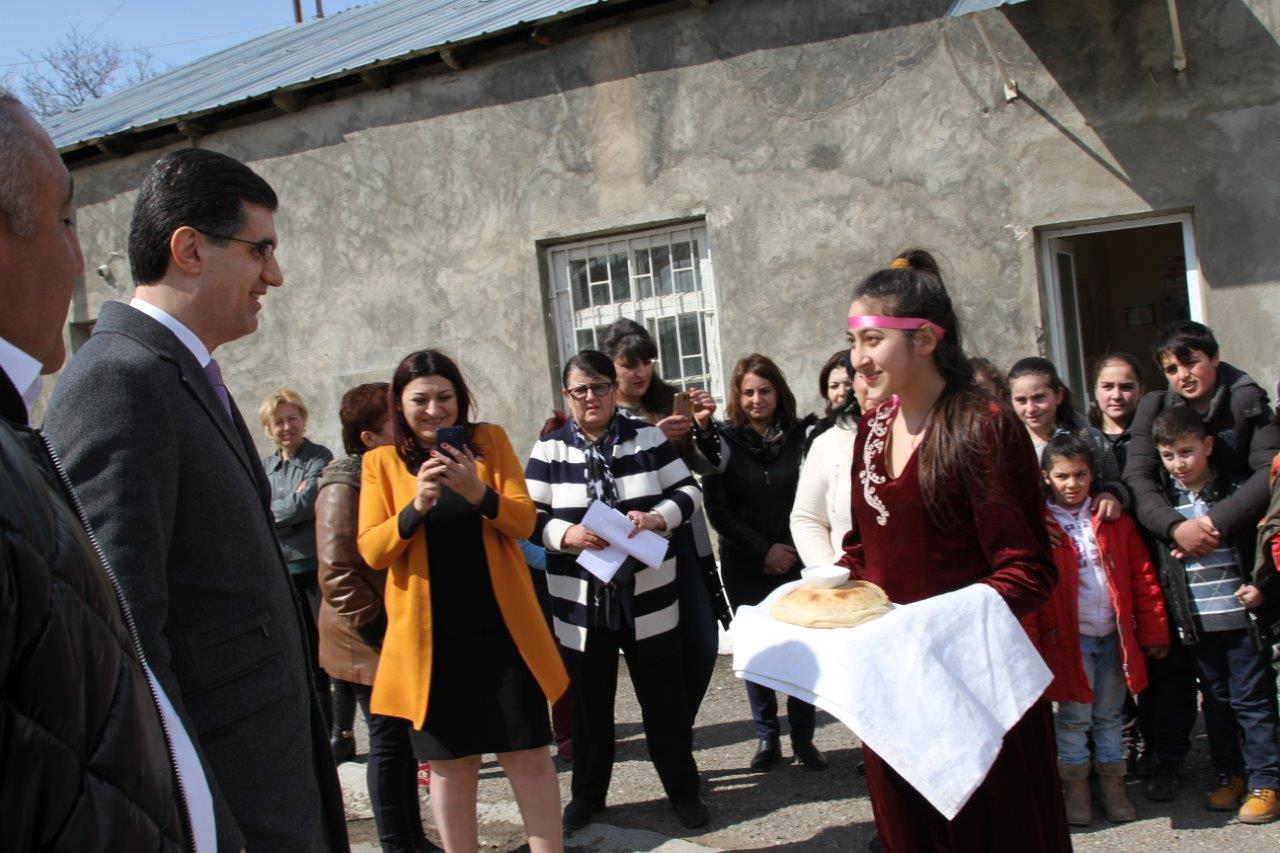 18/03/2019 22:16
Vivacell-MTS. Community development is a program direction: a longstanding problem solved in Hermon community
For more than 27 years after the collapse of USSR, the outdoor lighting in Hermon, a village in Vayots Dzor region, remained unsolved. Over the course of time, the infrastructure wore out and deteriorated. In summertime in the afternoons the absence of light was somewhat tolerable, whereas in other times of the year it was a real problem. Along with shortening of the daytime, the hope of bringing about any initiative in the village vanishes, just like the day-to-day activities. All activities in the village were adapted to daylight – even the workhours of the grocery stores.
In 2018, Hermon was included in the "Eco village network development in Armenia" project. Constrcution works were done early in autumn. By the end of the year the problem was solved due to the cooperation of VivaCell-MTS and FPWC. Energy efficient lighting system including some 33 LED lights was installed. Over 1-km-long section of the main streets of the village has been illuminated. The 2019 was welcomed with lightened streets.
"We need proper conditions to keep villagers in the village. Development of infrastructures is the minimum we need to do to provide those conditions. People who are in the focus of attention are more confident, more creative, and are able to overcome hardships. I believe the lighting system in the streets of the village will bring other changes, too. People will not be forced to go to a store or to a doctor during the daytime alone. Optimism about life is crucial to achieve more. We do our best to achieve this," VivaCell-MTS General Manager Ralph Yirikian said.
The installation of energy-efficient lighting in villages rich in biodiversity is another important step of creating eco village network. The project allows the villages to integrate in the process, encompassing four components of sustainability: environment, economics, culture, and social issues.
The introduction of energy efficient technologies reduces financial expenses of the community, makes the community life more vibrant, and contributes to a sustainable and clean environment.
Compared to regular bulbs, LED lights are more energy-efficient and durable, and can serve for a much longer period consuming 80% less electivity.
The streets of the village will be illuminated from 21:00 till 02:00 in summer, and from 18:00 till 01:00 in winter. During holidays, illumination will be provided all night long.
-----------
VivaCell-MTS (MTS Armenia CJSC) is Armenia's leading telecommunications operator, having the widest 2G/3.75G/4G network reach and spreading a wide range of Voice and Data services all across Armenia. Having the best of the Armenian people interest at heart since its launch on 1st July 2005 and in a short period of time VivaCell-MTS has managed to build a nationwide network and a considerable customer base. VivaCell-MTS drives innovation and aims at always being at the forefront of any development servingthe Armenian mobile communications market. The company follows the guidance provided by ISO 26000 (International Standard of Social Responsibility) and ISO/IEC 27001:2013 (Information Security Management System). For more information, visit www.mts.am
Mobile TeleSystems PJSC ("MTS") is the leading telecommunications group in Russia and the CIS, offering mobile and fixed voice, broadband, pay TV as well as content and entertainment services in one of the world's fastest growing regions. Including its subsidiaries, the Group services over 100 million mobile subscribers in Russia, Ukraine, Turkmenistan, Armenia and Belarus. Since June 2000, MTS' Level 3 ADRs have been listed on the New York Stock Exchange (ticker symbol MBT). Additional information about the MTS Group can be found at www.mtsgsm.com
Ucom
- broadband connection starting at AMD 6,000
AMD Rates
09:12 11/12
Buy
Sell
AMD / USD
478.00
479.00
AMD / EUR
528.00
532.00
AMD / RUR
7.48
7.58
dollars
dollars
BTC/USD
7349.08890485
+0.00%
ETH/USD
147.369578521
+0.00%
BCH/USD
208.246711499
+0.00%
XRP/USD
0.2229740668
+0.00%
LTC/USD
44.5634661422
+0.00%
BTC
132,973,496,008
+0.00%
ETH
16,043,476,510
+0.00%
Molybdenum
20062.00
-0.55%
Dow Jones
27881.72
-0.10%
Hang Seng
26436.62
-0.22%
CBA Interest Rates
Refinancing
Refinancing Rate
5.50
+0.00
Lombard Repo
Lombard Repo Rate
7.00
+0.00
Macroeconomy
CEA
Coefficient of Economic Activity
+7.10%
Ind. Prod.
3
Volume of Industrial Production
1,444.4
+9.70%
Avg. Salary
2
Average salary
178,633
+5.90%
Services
3
Volume of services
1,476.8
+15.50%
Construction
3
Volume of construction
251,836
+4.40%
1 - mln AMD, 2 - AMD, 3 - bln AMD