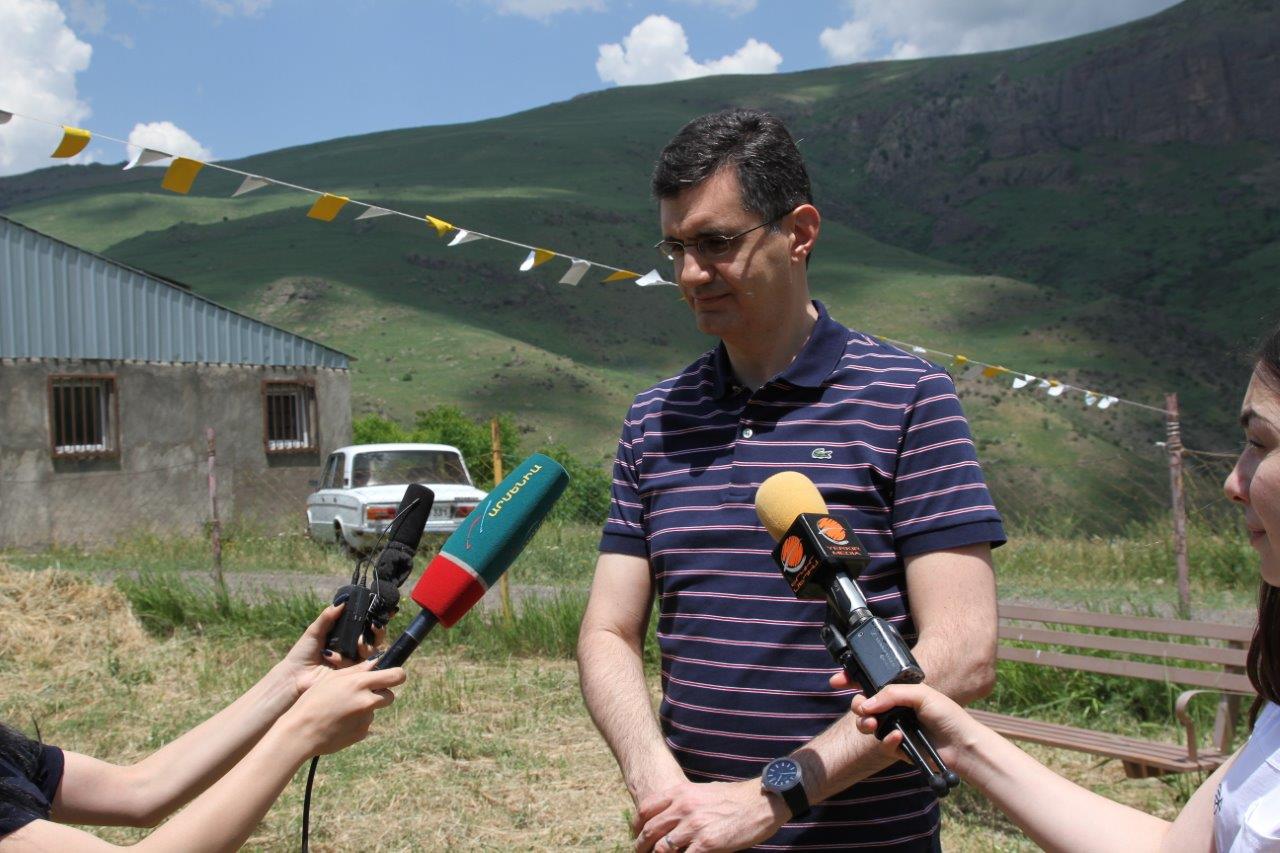 18/06/2019 21:13
Vivacell-MTS: Decades old problem has been solved in the border town of Gomq
Located about 7 km from Nakhichevan's border, Gomq village is now provided with outdoor lighting. After the collapse of the Soviet Union, there has always been a problem of infrastructure here. Now, Gomq is added to the list of the villages, which have an energy-efficient street lighting system. Partner organizations, VivaCell-MTS and the Foundation for the Preservation of Wildlife and Cultural Assets (FPWC), had their serious input in the realization of this project. Like in other remote, border villages of Armenia, the program was implemented here, too, on phased basis. At first the main, then the secondary streets were lighted.
Still in 2015, within the framework of the "Alternative Energy" Project, the partner organizations installed an outdoor illumination system equipped with 37 LED lamps. By the second phase of the project, the number of the lamps is increased by another 34.
In general, 2,650 meters long area is illuminated in Gomq, 1,300 meters of them – upon the works started since last summer.
VivaCell-MTS General Manager Ralph Yirikian, the founder of FPWC Ruben Khachatryan, the head of Zaritap community Simon Babayan, the administrative head of Gomq village Mkhitar Hovhannisyan and community members participated in the launching ceremony of the energy-saving system.
"The world lives in times when every single day offers solutions to make human life and routine easier. And in an era of those opportunities, it seems impossible to have a problem like the outdoor illumination unsolved. And yet this problem perseveres and oftentimes in borderland villages. Starting from 2014, now for 5 years in a row, we implement this joint project hand in hand with our partner, as we believe that having illuminated streets cannot be prerogative of urban settlements. Step by step we reduce the number of streets lost in darkness and return hope for a better future in borderland villages with every illuminated street. This project has a social underpinning, too: and that is equally important. I am glad to note that consistently we have managed to implement a program that provides modern solutions and spending efficiency in this village as well," VivaCell-MTS General Manager Ralph Yirikian said.
The launching of the outdoor lighting system will promote the activation of the community's life. Gomq is a convenient place for developing the eco-tourism. Active measures are being taken, in this direction, too.
Unlike other lamps, the LED lamps are more efficient and durable, and can be used longer, consuming 80% less electric energy.
The streets of Gomq will be illuminated in the summer from 21:00 to 01:00, and in the winter from 18:00 to 23:00. On holidays the street lighting will be provided, all night long.
VivaCell-MTS (MTS Armenia CJSC) is Armenia's leading telecommunications operator, having the widest network reach and spreading a wide range of Voice and Data services all across Armenia. Having the best of the Armenian people interest at heart since its launch on 1st July 2005 and in a short period of time VivaCell-MTS has managed to build a nationwide network and a considerable customer base. VivaCell-MTS drives innovation and aims at always being at the forefront of any development serving the Armenian mobile communications market. The company follows the guidance provided by ISO 26000 (International Standard of Social Responsibility) and ISO/IEC 27001:2013 (Information Security Management System). For more information, visit www.mts.am
-----------
Mobile TeleSystems PJSC ("MTS") is the leading telecommunications group in Russia and the CIS, offering mobile and fixed voice, broadband, pay TV as well as content and entertainment services in one of the world's fastest growing regions. Including its subsidiaries, the Group services over 100 million mobile subscribers in Russia, Ukraine, Armenia and Belarus. Since July 2000, MTS' Level 3 ADRs have been listed on the New York Stock Exchange (ticker symbol MBT). Additional information about the MTS Group can be found at www.mtsgsm.com
Ucom
- broadband connection starting at AMD 6,000
AMD Rates
10:48 20/07
Buy
Sell
AMD / USD
475.50
477.00
AMD / EUR
534.00
538.00
AMD / RUR
7.54
7.63
dollars
dollars
BTC/USD
10524.2372188
+6.31%
ETH/USD
221.836763634
+1.69%
BCH/USD
311.528445809
+3.83%
XRP/USD
0.3197712784
+1.49%
LTC/USD
97.0547543506
+5.10%
BTC
187,598,475,014
+6.32%
ETH
23,727,557,514
+1.70%
XRP
13,696,668,825
+1.49%
Platinum
12929.39
+109.11
Molybdenum
25970.00
+0.85%
Dow Jones
27154.20
-0.25%
Hang Seng
28765.40
+1.07%
CBA Interest Rates
Refinancing
Refinancing Rate
5.75
+0.00
Lombard Repo
Lombard Repo Rate
7.25
+0.00
Macroeconomy
CEA
Coefficient of Economic Activity
+7.30%
Ind. Prod.
3
Volume of Industrial Production
733.1
+5.60%
Avg. Salary
2
Average salary
176,215
+5.40%
Services
3
Volume of services
737.3
+16.50%
Construction
3
Volume of construction
97.3
+6.10%
1 - mln AMD, 2 - AMD, 3 - bln AMD