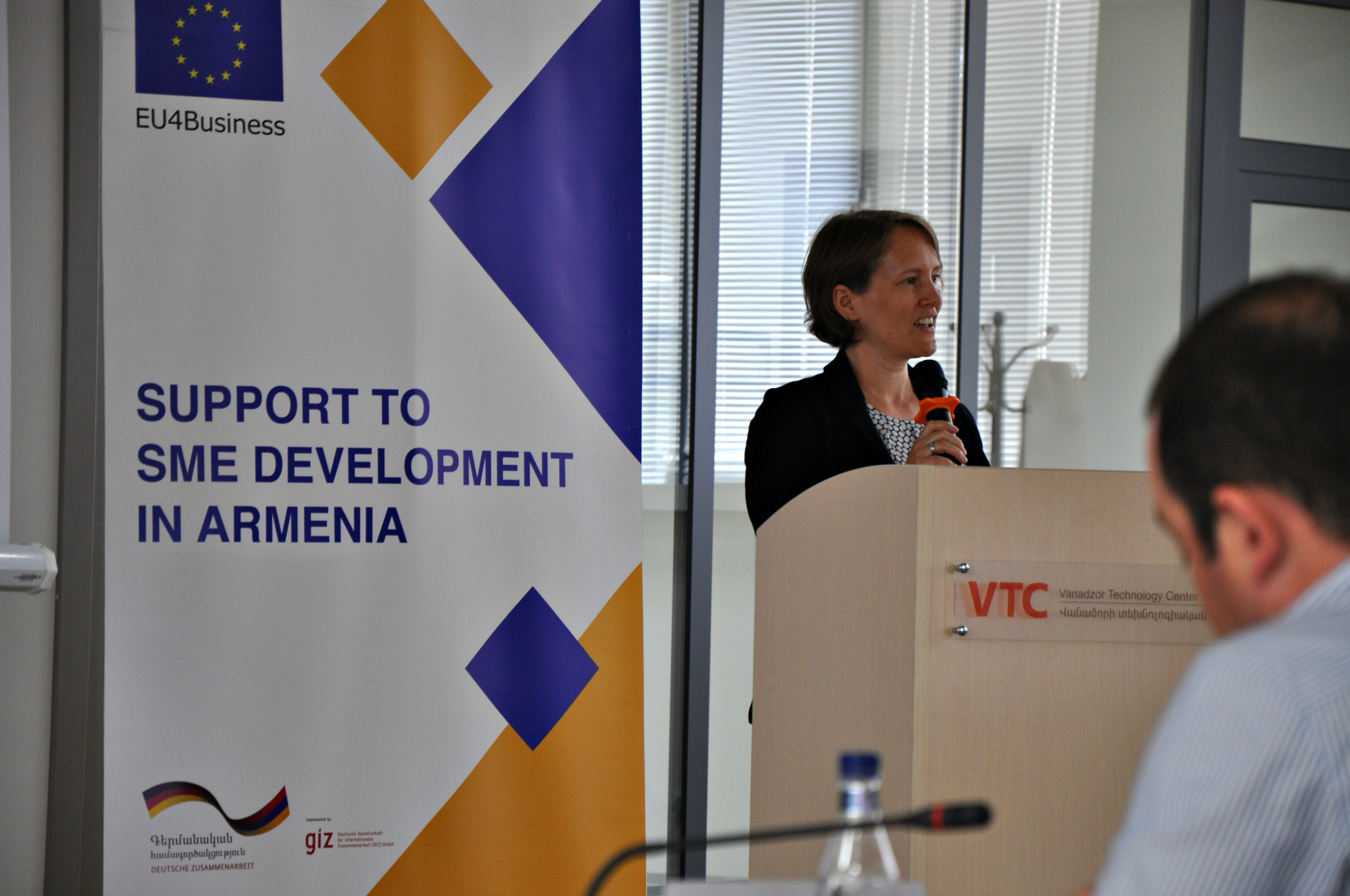 06/07/2018 10:18
IT is promising in Armenia, the entrepreneurial culture needs a boost. Eva Maria Näher
On June 29, the finale of the Innovative Matching Grant Competition (IMG) was held in Vanadzor Technological Center. 14 teams came to the final round.
The funding of this project is coming from the EU under the EU4Business initiative.
In the interview on «Business 24» the Deutsche Gesellschaft für Internationale Zusammenarbeit (GIZ), support to SME Development in Armenia (EU-SMEDA) team leader Eva Maria Näher told about the specifics of the program.
-When and why it was decided to start this program?
- The project has started in the beginning of 2016 and will run till 2019 as support to private sector development. The idea is to strengthen the private sector in Armenia in general. And we have different components that we are working on. But the basic idea is really to improve the private sector in Armenia, because there is room for improvement. Because it is an important pillar for society and economy. That's why it was decided to have this sector as one of the priority area for EU in Armenia.
- Why is it so important for the EU to improve the private sector in Armenia?
- The Private sector in general is still rather weak in Armenia. For example, we took some groups for different activities to Europe and learnt from European business partners that, yes, the technology is very well developed, very good, is promising in Armenia. But the entrepreneurial culture and skills are rather weak. There are still a lot to do; the weak points are in particular marketing, prizing strategy, finding the right business model, international networks and so on. We found good education in technology and engineering, where good ideas and products are coming from. Hence, we saw also that money is not the only bottleneck for business -e.g. through the grants we are providing. In particular business advice and mentorship are crucial to guide the companies. Yes, it is important to have a good product and idea, but it is also crucial knowing how to sell it to the customer. This point is must be considered and further developed.
- If we talk about last year's results, there were winning teams who, thanks to this program, have improved their product from business point of view?
- Yes, many teams are already showing interesting results. In particular on team was recently granted by the EU Research and Innovation programme «Horizon 2020». It is an engineering company «Grovf» which was last year participant and one of the winners from the 1-st cycle. This recognition shows, that they are competitive at an international scale and that they have a great business case.
-And how EU monitors the results of winners?
-Every three month the grantees have to present financial and technical reports about their progress, how they have achieved their goals and if they spent money correctly.
Ucom
- broadband connection starting at AMD 6,000
AMD Rates
10:36 18/05
Buy
Sell
AMD / USD
479.00
481.00
AMD / EUR
536.00
539.00
AMD / RUR
7.39
7.48
dollars
dollars
BTC/USD
7243.68883441
-9.50%
ETH/USD
239.552640268
-7.47%
BCH/USD
360.429488052
-12.26%
XRP/USD
0.3803820313
-14.19%
LTC/USD
88.4588689749
-11.19%
BTC
128,250,322,106
-9.49%
ETH
25,416,909,328
-7.46%
BCH
6,410,725,025
-12.25%
XRP
16,026,754,318
-14.19%
LTC
5,467,495,480
-11.17%
Molybdenum
26896.00
+0.00%
Dow Jones
25764.00
-0.38%
Hang Seng
27946.46
-1.16%
CBA Interest Rates
Refinancing
Refinancing Rate
5.75
+0.00
Lombard Repo
Lombard Repo Rate
7.25
+0.00
Macroeconomy
CEA
Coefficient of Economic Activity
+5.80%
Ind. Prod.
3
Volume of Industrial Production
1,737.7
+4.30%
Avg. Salary
2
Average salary
172,357
+3.80%
Services
3
Volume of services
1,764.7
+18.80%
Construction
3
Volume of construction
422.3
+4.50%
1 - mln AMD, 2 - AMD, 3 - bln AMD