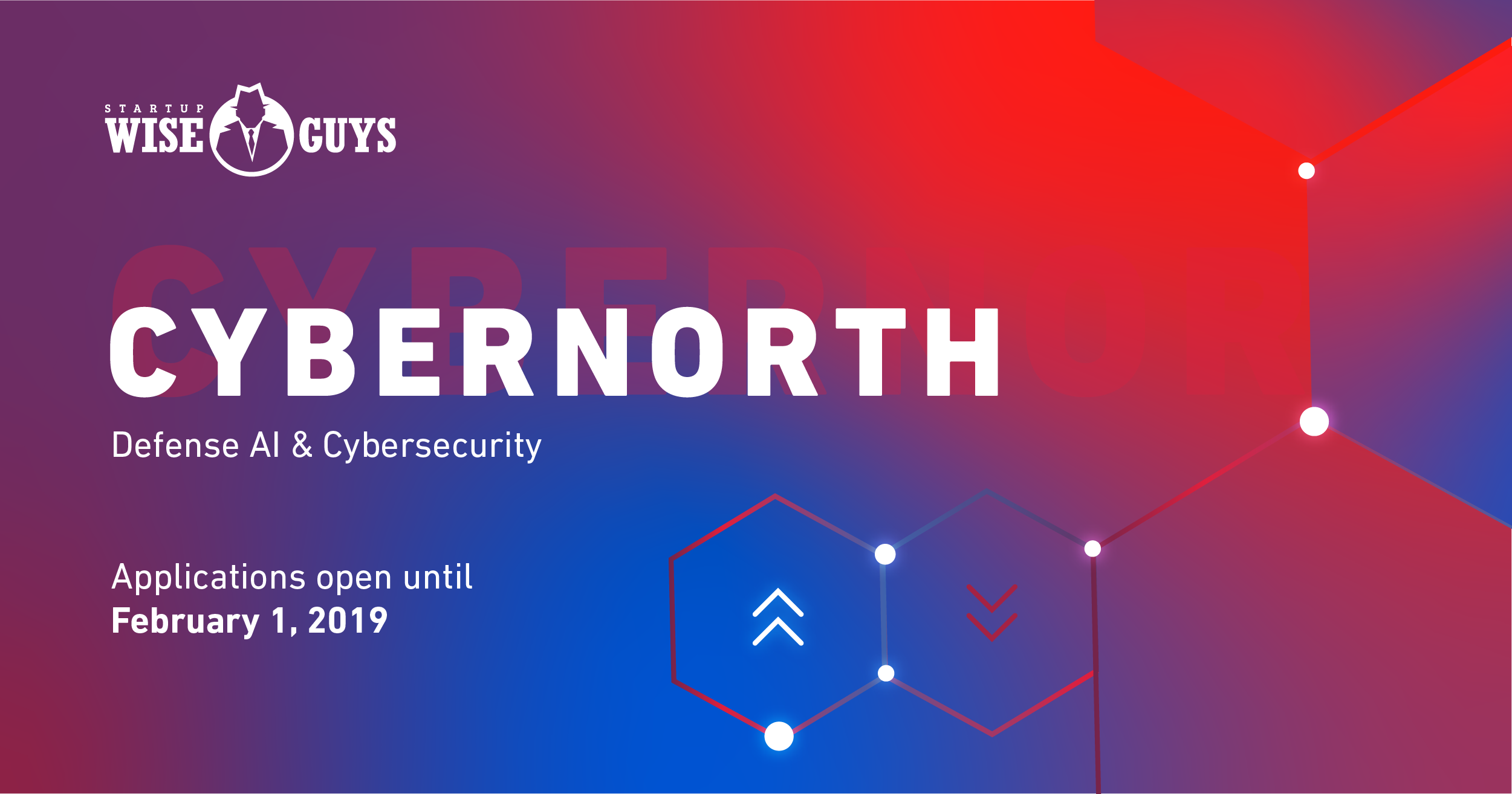 21/11/2018 23:02
Estonia to host the first European Defense AI and cybersecurity accelerator
Early stage startups tackling Defense AI and cybersecurity area are invited to apply to CyberNorth – the first Defense AI and cybersecurity focused accelerator in Europe. The program is brought by Europe's most experienced B2B accelerator Startup Wise Guys in collaboration with Estonian Defence Industry Association and supported by Ministry of Defence of Republic of Estonia. CyberNorth will start in March 2019 and run for 3 months in Tallinn, Estonia.
Startups can apply online: startupwiseguys.com/cybernorth
Apart from general network of 150+ Startup Wise Guys mentors, CyberNorth program will leverage expertise of Estonian defense industry and international cybersecurity, defense AI experts and practitioners. To name a few: co-founder of Defendec and EDIA Board member Jaanus Tamm, VP at Guardtime and Vice Chairman of European Cybersecurity Organisation Martin Ruubel, cybersecurity angel investor and founder of Comply 27 Lars Neupart, global cyber guru Joseph Carson, AI expert from Estonia - Taavi Tammiste, and others.
Startups selected to the program will receive investment of up to 30.000 eur with follow-on possibility, 3 months hands-on intensive acceleration program with business development and cybersecurity focus, access to network of 150+ mentors and 100+ investors, as well as successful accelerator graduates. The teams will relocate to Tallinn and get free space in a modern co-working for the duration of the acceleration program.
"Imagine a country with less than 2 million people, but being globally on the forefront of digitization, blockchain, e-governance, and defense. If you are an early stage "cyber startup" in Europe or nearby region – seriously, I can't think of a better place where to accelerate than Estonia. And we've already gathered an impressive crowd of industry specific international mentors eager to start working with you!", says Cristobal Alonso, Global CEO at Startup Wise Guys.
"Estonia has been on a constant quest for cyber innovation for almost 20 years. CyberNorth is another outstanding initiative which the Estonian Ministry of Defence is proud to support." Kusti Salm, Estonian ministry of Defence.
Jaanus Tamm, Board member of Estonian Defense Industry Association, partner at CyberNorth accelerator program: "Estonia has great cyber reputation in the world. We are looking for more new smart solutions in defense and AI field, which compliments our current cyber and defense industry success stories in smart solution fields like Guardtime, Milrem Robotics and Threod Systems. Our cooperation with governmental end users create good platform to verify needs for new products and prepare it for real market entrance".
In 2007 Estonia survived a major cyber-attack that almost stopped the country for more than three weeks. The lessons learned clearly have not come easy, but now media all over the world are naming Estonia a cyber security hotspot.
The little country of less than 2 million inhabitants has managed to develop one of the most technologically advanced systems of government serving as a role model to many. 99% of its public services are electronic, e-health system has been running for more than a decade, and Estonia was the first country in the world to elect its parliament via e-voting system. The country also hosts the headquarters of the NATO Cooperative Cyber Defence Centre of Excellence and is the first using blockchain on a national level. Given this background and efficient foreign founder on-boarding system with Startup Visa and E-residency, Estonia is the perfect spot for breeding future cybersecurity superstars.
About Startup Wise Guys: With 100 investments in early stage startups, Startup Wise Guys is one of the top investors in the broader CEE region and Nordics. To help techy startup founders become true entrepreneurs, they are running a world class boutique startup accelerator since 2012. They have accelerated more than 100 startups in 11 cohorts, focusing on B2B SaaS and Fintech early stage startups. Portfolio has already had 1 major exit and overall startup survival and success rate is above 77%. More information: www.startupwiseguys.com
About Estonian Defence Industry Association: Estonian Defence Industry Association (EDIA) was founded in 2009 that represents all the main defence and security industry related enterprises in Estonia. From 2012 Estonian Defence and Security Industry Innovation Cluster was established. At the moment, the association has 114 members and defense cluster has 17 members. The aim of the Estonian defence and security industry cluster is to become the center of competence in research and development and export in the field.
AMD Rates
08:52 19/06
Buy
Sell
AMD / USD
476.50
478.50
AMD / EUR
532.00
537.00
AMD / RUR
7.41
7.49
dollars
dollars
BTC/USD
9164.01426318
-0.40%
ETH/USD
268.491954844
-0.50%
BCH/USD
414.625004792
-1.81%
XRP/USD
0.4310905307
-2.73%
LTC/USD
135.589090427
+2.92%
BTC
162,819,790,618
-0.39%
ETH
28,608,063,677
-0.49%
XRP
18,322,188,235
-2.73%
Molybdenum
27293.00
+0.00%
Dow Jones
26465.54
+1.35%
Hang Seng
28202.14
+2.56%
CBA Interest Rates
Refinancing
Refinancing Rate
5.75
+0.00
Lombard Repo
Lombard Repo Rate
7.25
+0.00
Macroeconomy
CEA
Coefficient of Economic Activity
+7.00%
Ind. Prod.
3
Volume of Industrial Production
573.6
+4.50%
Avg. Salary
2
Average salary
177,171
+6.20%
Services
3
Volume of services
575 50
+17.00%
Construction
3
Volume of construction
68.2
+8.00%
1 - mln AMD, 2 - AMD, 3 - bln AMD