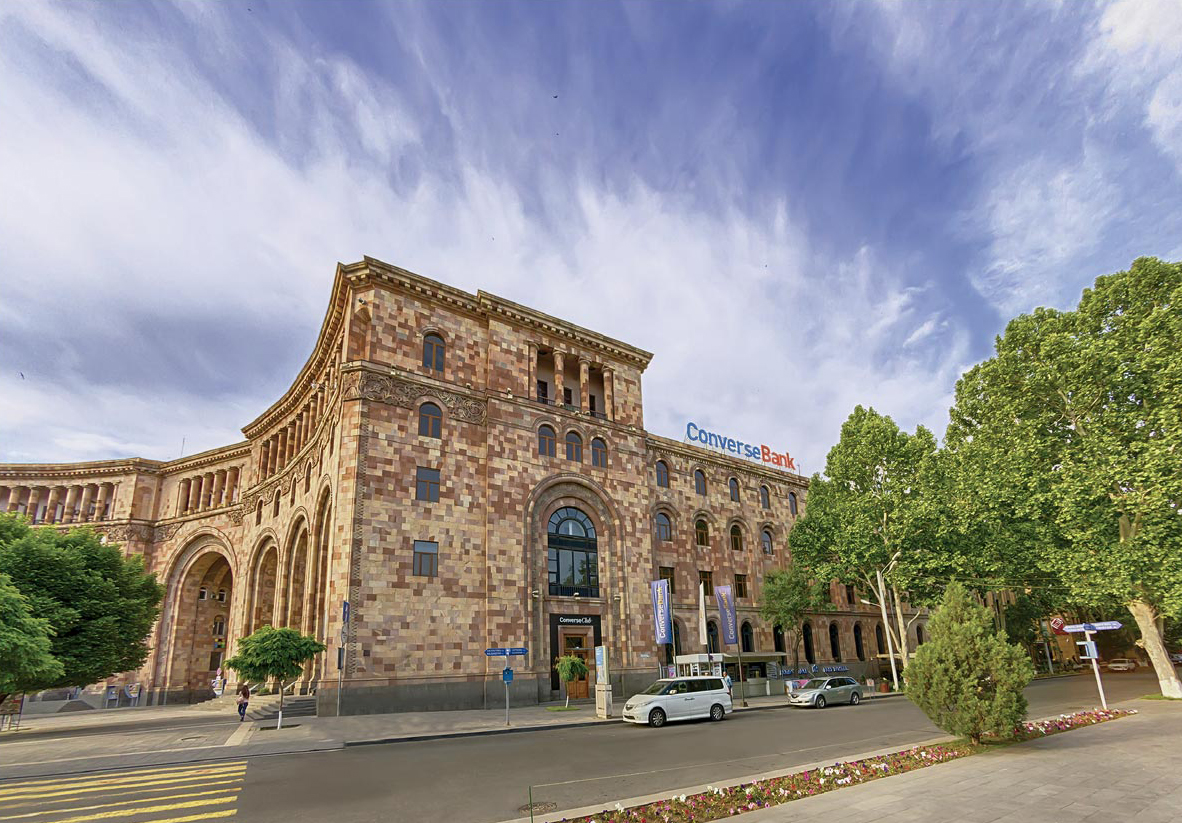 09/04/2018 11:38
Gulf News: Converse Bank - a quarter-century in Armenia
Converse Bank celebrates its 25th anniversary this year, making it nearly as old as the Republic of Armenia itself. CEO Artur Hakobyan looks back on his own role in building an economy from the ground up, and on how this nation-building experience is helping him take one of Armenia's largest banks by size of assets to the next level through the development of digital services and international partnerships.
Converse Bank is 25 years old, almost the same age as modern Armenia. How do both histories relate to one another?
We are an integral part of our country. This year, as we celebrate our 25th anniversary, we can look back at the progress made by our transitioning economy. If we compare the situation in the 1990s with the situation now, we can see many changes in our markets, and especially in the financial markets. There are many examples. For instance, if in the past banks preferred to provide short-term and foreign currency mortgage loans, nowadays these loans are mainly in local currency and for longer – up to a 20-year period. This indicates great confidence in the national currency.
You were a government economist before working in banking. How is that experience helping you deal with challenges at Converse?
It was a very interesting period for my career, because it was a transitional moment in the Armenian economy. We were learning, and at the same time we were implementing important policies. I was lucky because our team had a chance to work on developing regulatory framework, banking laws and other significant legislation. This was very useful to me later on. After going into the commercial sector, it helped me and my team design products that were required by the market. I would say that our main skill is bringing a systematic approach to our work. The developments at our bank are based and governed on project management best principles and efficiency measures. This approach helps us to ensure high level of engagement and achieve high efficiency.
Converse Bank is growing both in terms of clients and of services. What new initiatives are in the pipeline?
We offer traditional banking services, and we have a very loyal customer base that is expanding. But we are also addressing new challenges for the banking industry such as developing efficient digital platforms and fintech products. Last month we launched our new mobile banking application, for instance. And we are going to expand our branch network. Another of our goals is to increase our excellence in customer service, which is our advantage over other Armenian banks. We are a traditional bank, but we are going to have many digital platforms, mobile and internet services, tools for currency exchange, and more.
Is the bank going to increase its international dimension?
Yes, it is one of our priorities. We aim to significantly expand international cooperation. The European Bank for Reconstruction and Development (EBRD) is among our main development partners, and we are continually evaluating and negotiating with various international and development institutions.
What kind of international partners would Converse Bank be interested in attracting?
We aim to attract investment but also technologies, so that we can offer our clients higher quality products and financial opportunities. We have many clients who want to invest in Armenia, and we feel there are lots of good opportunities to do good business here. Converse Bank can be a financing partner and can also provide financial consultancy services as we have significant expertise in many fields such as renewable energy – especially solar – and green financing. Our staff is very knowledgeable in these matters.
As a privileged observer of the Armenian economy, where do you see future growth taking place?
We see lots of opportunities here. As our president mentioned during the last Armenia-UAE business conference the main areas of cooperation and investment are agriculture, food processing, jewellery, mining and IT. We can also offer interesting tourism products, and I foresee that there is going to be a lot of investment in tourism infrastructure. The economic context for this is favourable because we have a highly qualified workforce and a good regulatory regime in place.
Last year, Converse Bank won the Euro STP Excellence Award for its handling of money transfers. Why is this important?
We are very proud of this award, as it is an assessment from our international partner and confirms our policy to provide high-quality services in accordance with international standards.
What message would you send to potential investors from the Gulf countries?
Visit Armenia. We will make you feel at home, and once you do I am sure you will want to come back and do business in Armenia.
AMD Rates
10:37 16/02
Buy
Sell
AMD / USD
486.00
488.00
AMD / EUR
547.00
552.00
AMD / RUR
7.28
7.37
dollars
dollars
BTC/USD
3640.38611682
+0.15%
ETH/USD
123.453102928
+0.23%
BCH/USD
122.995003922
-0.39%
XRP/USD
0.3023859501
-0.68%
LTC/USD
43.8404000732
+4.67%
BTC
63,855,692,521
+0.17%
ETH
12,948,046,176
+0.25%
XRP
12,460,748,369
-0.68%
Molybdenum
26000.00
+0.00%
Dow Jones
25883.25
+1.74%
Hang Seng
27900.84
-1.87%
CBA Interest Rates
Refinancing
Refinancing Rate
5.75
+0.00
Lombard Repo
Lombard Repo Rate
7.25
+0.00
Macroeconomy
CEA
Coefficient of Economic Activity
+5.80%
Ind. Prod.
3
Volume of Industrial Production
1,737.7
+4.30%
Avg. Salary
2
Average salary
172,357
+3.80%
Services
3
Volume of services
1,764.7
+18.80%
Construction
3
Volume of construction
422.3
+4.50%
1 - mln AMD, 2 - AMD, 3 - bln AMD