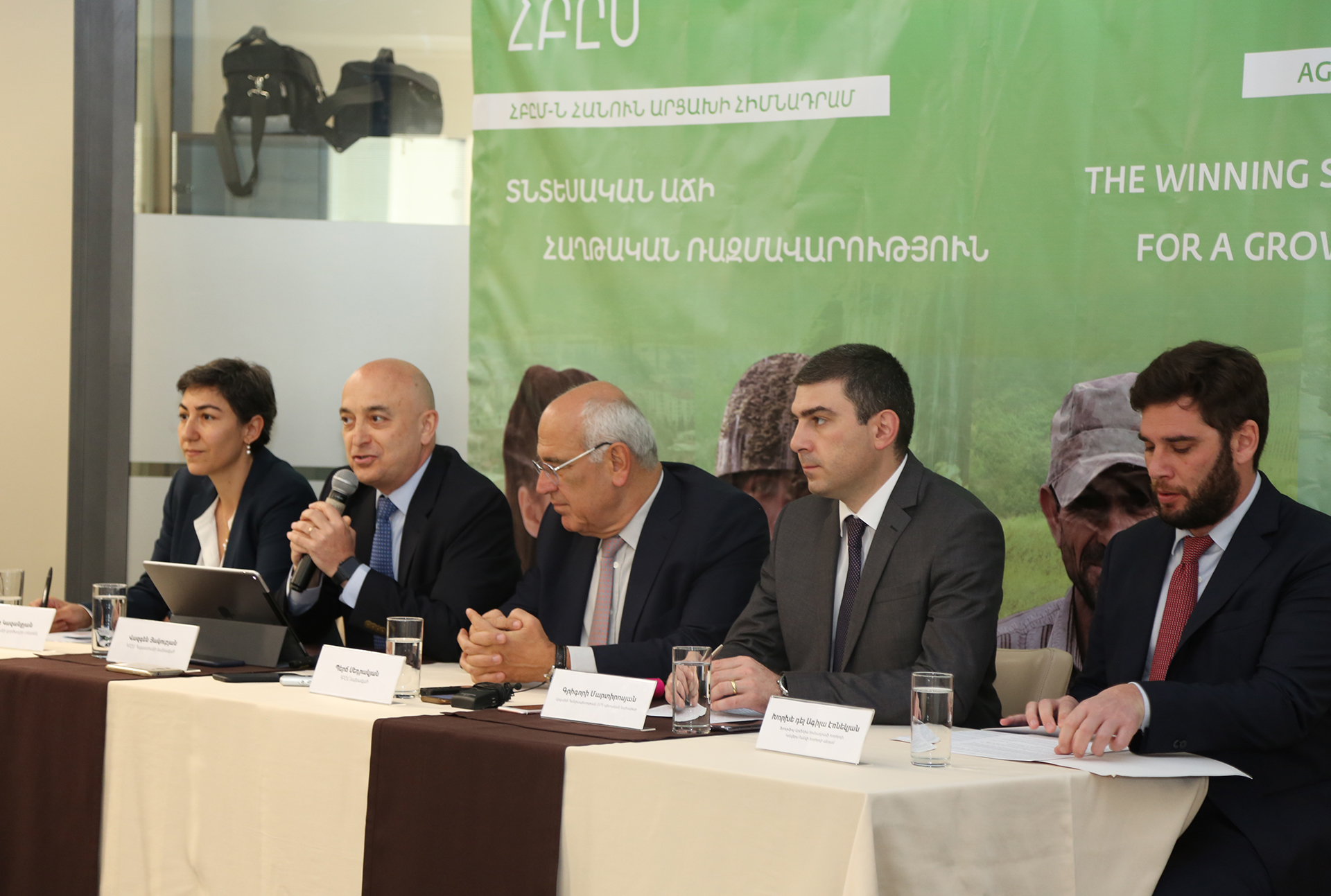 06/06/2019 19:33
The AGBU Women Entrepreneurs Program Launched in Artsakh: FRUITFUL ARMENIA Foundation is the partner
The press conference of AGBU Armenia and Fruitful Armenia on launching the Women Entrepreneurs Program in Artsakh took place on June 4, 2019.
AGBU Women Entrepreneurs (W.E.) in Artsakh is implemented together with Fruitful Armenia Charity Foundation to boost the entrepreneurial skills of women in Stepanakert and the regions and help them succeed in the world of business. The project is part of the AGBU Women Empowerment Program which began in Armenia in 2017 to help promote human rights and equal opportunity for women in Armenia.
"The majority of the employees of companies governed by Mr. Eurnekian are women. We believe that women can make a great contribution to the economic development of Armenia and Artsakh. That is why we, specifically FRUITFUL Armenia Foundation, are happy to be the main sponsor of the project this year, a project that will give the women entrepreneurs of Artsakh an opportunity to develop their business skills", said Jorge Del Aguila-Eurnekian, Board Member of Fruitful Armenia Foundation and Converse Bank.
Converse Bank is also one of the supporters of Women Entrepreneurs Program. Representatives of the Bank will give lectures on the financial management and relations with financial institutions. Moreover, the Bank has expressed willingness to provide the attendees of the lectures comprehensive banking services on preferential terms, offer business consultation, as well as help the women entrepreneurs to sell their products.
AMD Rates
10:48 20/07
Buy
Sell
AMD / USD
475.50
477.00
AMD / EUR
534.00
538.00
AMD / RUR
7.54
7.63
dollars
dollars
BTC/USD
10524.2372188
+6.31%
ETH/USD
221.836763634
+1.69%
BCH/USD
311.528445809
+3.83%
XRP/USD
0.3197712784
+1.49%
LTC/USD
97.0547543506
+5.10%
BTC
187,598,475,014
+6.32%
ETH
23,727,557,514
+1.70%
XRP
13,696,668,825
+1.49%
Platinum
12929.39
+109.11
Molybdenum
25970.00
+0.85%
Dow Jones
27154.20
-0.25%
Hang Seng
28765.40
+1.07%
CBA Interest Rates
Refinancing
Refinancing Rate
5.75
+0.00
Lombard Repo
Lombard Repo Rate
7.25
+0.00
Macroeconomy
CEA
Coefficient of Economic Activity
+7.30%
Ind. Prod.
3
Volume of Industrial Production
733.1
+5.60%
Avg. Salary
2
Average salary
176,215
+5.40%
Services
3
Volume of services
737.3
+16.50%
Construction
3
Volume of construction
97.3
+6.10%
1 - mln AMD, 2 - AMD, 3 - bln AMD