14/09/2017 19:53
Ardshinbank to Join the 200th Anniversary Celebration of I. Aivazovsky
Ardshinbank will join the 200th anniversary celebration of I. K. Aivazovsky. Notably, on September 14 in Yerevan the National Gallery of Armenia will host the solemn opening of the exhibition entitled "Creation", of one of the world's greatest marine artists, where the guests and visitors will be given the wall calendars with the artist's paintings issued by the Bank.
On the 200th anniversary of the prominent artist of Armenian origin I. Aivazovsky, Ardshinbank issued a colorful wall calendars with the works of the renowned master. The calendar includes such works as "The Descent of Noah from Mount Ararat ", "Moonlit Night in Constantinople", "Fishermen on the Beach", "Sunrise in Feodosia", "Survivors from a Shipwreck" and other works of the author. The calendar contains paintings kept in the National Gallery of Armenia, which are exclusively the country's property.
"Ardshinbank considers the support of art, preservation and promotion of the cultural heritage of our country one of the most important directions of its activities. In cooperation with the National Art Gallery of Armenia, the Bank issued a jubilee calendar with the works of the master. This is a tribute to the talent of our great compatriot, his invaluable contribution to the development of world art," said Armen Gasparyan, Strategic Development Director at Ardshinbank.
It should be noted that Ardshinbank's anniversary calendar was awarded with the honorary diploma of the Central Bank of Armenia. Furthermore, it won a prize in the annual competition held among banks, as well as financial credit organizations of Armenia.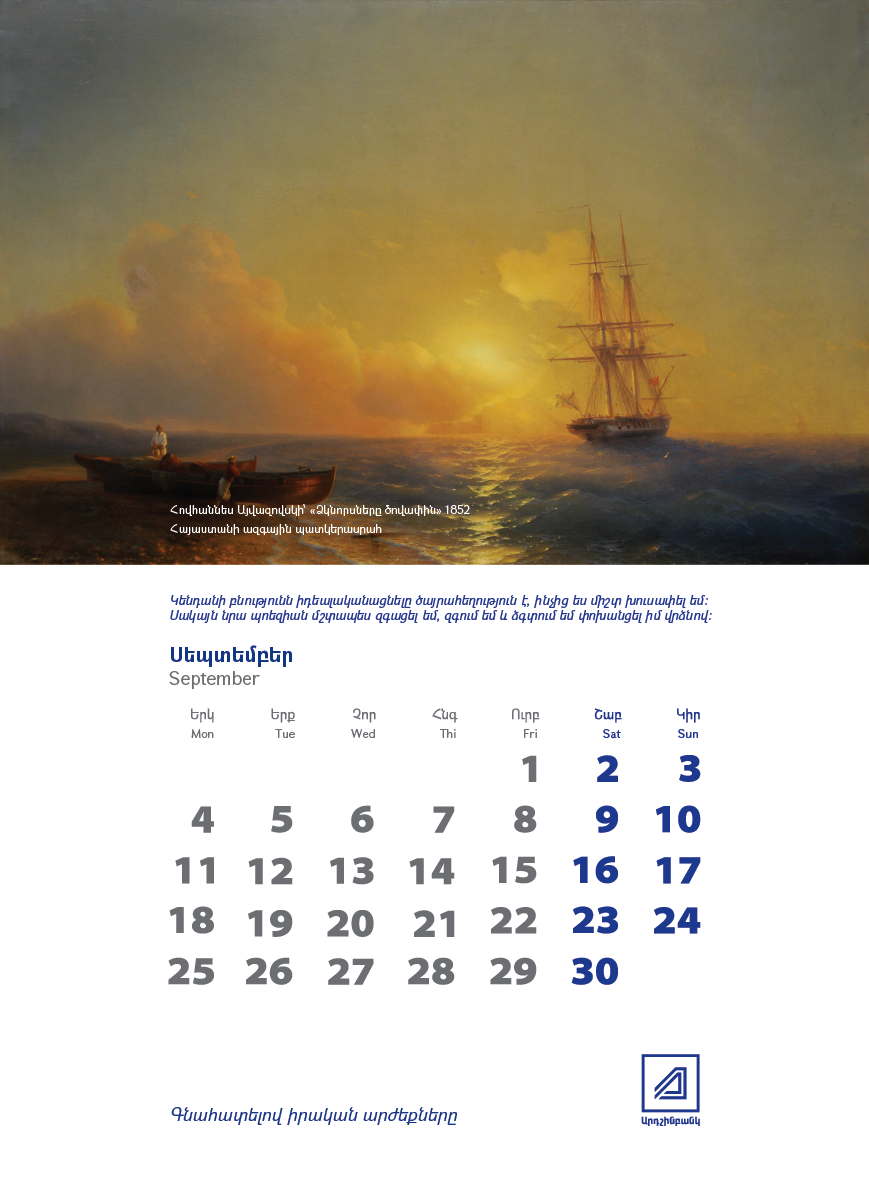 ---------------------
Ardshinbank is the second largest bank in Armenia with one of the broad sales networks comprising of 64 branches. Ardshinbank is the only private entity in Armenia with assigned ratings from two international major rating agencies (Moody's and Fitch) equal to the rating of the Republic of Armenia.
AMD Rates
08:43 20/09
Buy
Sell
AMD / USD
481.50
483.50
AMD / EUR
561.00
566.00
AMD / RUR
7.19
7.28
dollars
dollars
BTC/USD
6362.36537149
+1.09%
ETH/USD
211.744761475
+6.93%
BCH/USD
436.627809037
+3.94%
XRP/USD
0.3323747175
+20.81%
LTC/USD
54.1014994365
+4.22%
BTC
109,913,914,619
+1.10%
ETH
21,608,468,402
+6.95%
XRP
13,231,528,100
+20.81%
Molybdenum
26000.00
+0.00%
Dow Jones
26405.76
+0.61%
Hang Seng
27477.67
+0.26%
CBA Interest Rates
Refinancing
Refinancing Rate
6.00
+0.00
Lombard Repo
Lombard Repo Rate
7.50
+0.00
Macroeconomy
CEA
Coefficient of Economic Activity
+9.30%
Ind. Prod.
3
Volume of Industrial Production
954.567
+4.30%
Avg. Salary
2
Average salary
168,990
+4.0%
Services
3
Volume of services
933.650
+18.7%
Construction
3
Volume of construction
162.735
+10.4%
1 - mln AMD, 2 - AMD, 3 - bln AMD