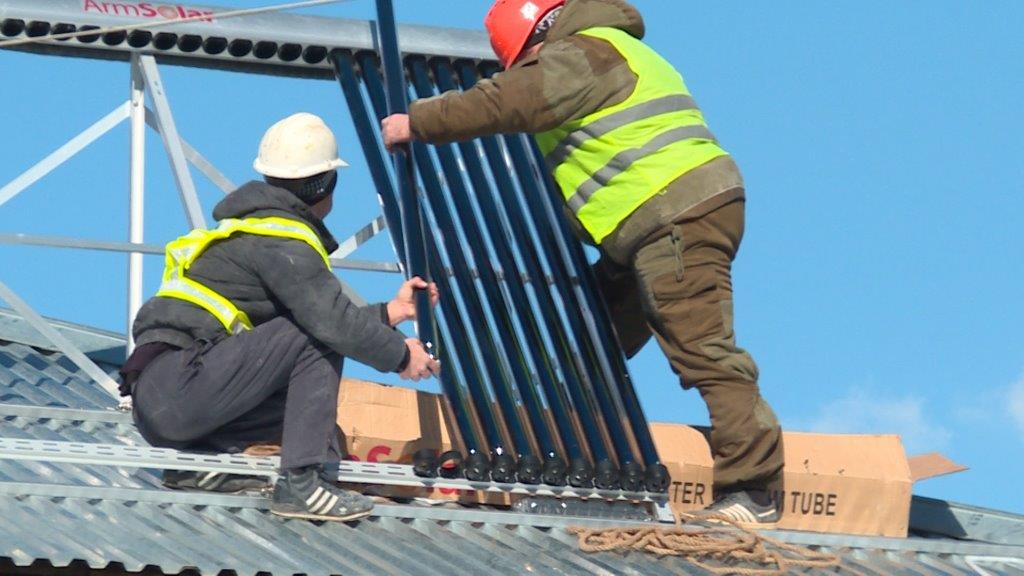 20/02/2019 15:38
Vivacell-MTS. New local heating system under construction in Agarakadzor
Construction works are actively underway in the kindergarten of Agarakadzor, a village in Vayots Dzor region of Armenia. A local solar heating system is expected to provide the institution with conditions, which have lacked since the collapse of the Soviet Union. For 38 years now the kindergarten has been inoperable in winter months due to the absence of heating.
With no heating system, the kindergarten is operable only 7-8 months a year. Electric ovens, one per each group and bedroom, are not enough to ensure the required temperatures. The ovens are also an additional safety concern. Catching cold among kids is a frequent matter, too, because of the low temperatures indoor. The teachers at the kindergarten say the interruptions of the educational process due to the seasonal recesses have negative impact on the learning outcomes. That is why the solution of the problem is crucial for the kindergarten and the 50 kids attending it.
VivaCell-MTS and FPWC have joined efforts to solve the heating issue. The local system will have sun-powered 9.5 kW/hour heater and a 300 liter heat-exchange tank. The results are already tangible: the number of kids to attend the kindergarten has grown reaching 58. This is a major achievement for a village with a population of 1490.
"The kindergarten has always had this problem. We are closed till April 1 or even 15 at times when ovens and electric heaters do not suffice to provide the necessary temperature. Kids catch cold too often and the parents avoid bringing them to kindergarten. Electric heaters cannot provide enough temperature. Wood ovens are banned from use in kindergartens: we are watchful, but incidents happen every now and then. After the construction is finished, the kindergarten will work year-round. It is vital for everyone," says the kindergarten principal Nakhshun Beglaryan.
"The community budget is not enough to solve problems like this one. This project is a major support to the village. We have more births in the recent years, which means that more small-aged kids will potentially attend kindergarten. The heating system will definitely have positive impact," Derenik Martirosyan, head of Agarakadzor administration said.
The heating system will be operated with utmost efficiency. In the night hours it will consume gas and will provide minimum required temperature in the facilities. In the daytime the heating will be provided solely by solar energy. This will let reduce gas consumption for 40 percent.
-----------
VivaCell-MTS (MTS Armenia CJSC) is Armenia's leading telecommunications operator, having the widest network reach and spreading a wide range of Voice and Data services all across Armenia. Having the best of the Armenian people interest at heart since its launch on 1st July 2005 and in a short period of time VivaCell-MTS has managed to build a nationwide network and a considerable customer base. VivaCell-MTS drives innovation and aims at always being at the forefront of any development serving the Armenian mobile communications market. The company follows the guidance provided by ISO 26000 (International Standard of Social Responsibility) and ISO/IEC 27001:2013 (Information Security Management System). For more information, visit www.mts.am
Mobile TeleSystems PJSC ("MTS") is the leading telecommunications group in Russia and the CIS, offering mobile and fixed voice, broadband, pay TV as well as content and entertainment services in one of the world's fastest growing regions. Including its subsidiaries, the Group services over 100 million mobile subscribers in Russia, Ukraine, Turkmenistan, Armenia and Belarus. Since June 2000, MTS' Level 3 ADRs have been listed on the New York Stock Exchange (ticker symbol MBT). Additional information about the MTS Group can be found at www.mtsgsm.com
Ucom
- broadband connection starting at AMD 6,000
AMD Rates
09:14 16/10
Buy
Sell
AMD / USD
476.00
477.50
AMD / EUR
524.00
527.50
AMD / RUR
7.36
7.40
dollars
dollars
BTC/USD
8359.32573015
-0.14%
ETH/USD
185.646699309
-0.13%
BCH/USD
225.964965706
-0.14%
XRP/USD
0.2933797693
-0.64%
LTC/USD
56.6568442556
-0.27%
BTC
150,409,138,879
-0.13%
ETH
20,078,217,848
-0.13%
XRP
12,664,262,098
-0.64%
Platinum
13759.23
+156.93
Molybdenum
24427.00
+0.00%
Dow Jones
27024.80
+0.89%
Hang Seng
26503.93
-0.07%
CBA Interest Rates
Refinancing
Refinancing Rate
5.50
+0.00
Lombard Repo
Lombard Repo Rate
7.00
+0.00
Macroeconomy
CEA
Coefficient of Economic Activity
+6.80%
Ind. Prod.
3
Volume of Industrial Production
1,079
+8.40%
Avg. Salary
2
Average salary
178,325
+5.90%
Services
3
Volume of services
1,086.4
+15.2%
Construction
3
Volume of construction
166.7
+4.50%
1 - mln AMD, 2 - AMD, 3 - bln AMD