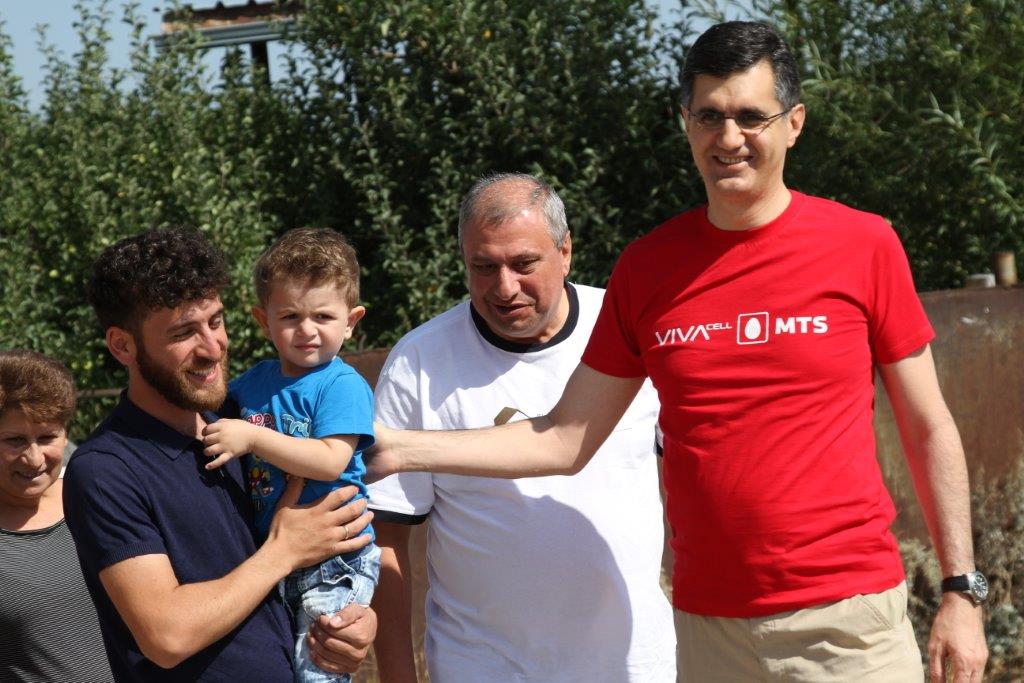 30/08/2019 13:23
Vivacell-MTS: Half-built House to Become a Home Owing to the Housing Project
VivaCell-MTS and the Fuller Center for Housing Armenia continue the joint implementation of the housing project, at the same time giving importance to volunteer participation. This time the leaders and the staff members of the partner organizations visited the Muradyan family, living in Mayakovski village of Kotayk region.
Over 10 years, the family had to move from a house to a house. Having lived in a rented house for years, the hope of owning a home has not faded. 13 years ago, the Muradyans started building their own house. But they could build only the walls of the house. Due to financial problems, the dream of having their own home stayed unfulfilled, and the construction works remained unfinished. After years of waiting, until the end of the year, the family will have a comfortable and decent home.
"I was a teenager when we started building our home. Now I have a son; he is 2 years old. My only wish is that my child to grow up in better conditions: in our own home," said Petros.
This year 43 families were supported by the housing project implementing between VivaCell-MTS and Fuller Center for Housing Armenia.
"The Muradyans will finally have their long-cherished home in their homeland. They will be relieved of the financial and psychological burden of renting a house. For a family and especially for a child, it is extremely important to have a feeling of having a safe corner. Constant needs and moving from one house to another obstruct the child from becoming self-sufficient and strong and standing firm on his feet. We need to help this child, this family stand firm on their Homeland. The support of VivaCell-MTS is not limited to allocating funds for the program. We are here as volunteers to help our compatriots, the Muradyans, through our personal efforts to fulfill their dream. Seeing a child's eyes shining with joy is a great gift," said VivaCell-MTS General Manager Ralph Yirikian.
"Having a home of their own with deserving housing conditions should not be a distant dream for the family; it should be an everyday reality. For many years, FCHA, with VivaCell-MTS, have been helping families, who have been deprived of the joy of having a home. I am happy to say that by the end of the year the Muradyans will complete the construction works and will have their own comfortable home. Possessing a home connects people with their homeland and awakens optimism for the future," said Fuller Center for Housing Armenia president Ashot Yeghiazaryan.
With the support of VivaCell-MTS, 13 houses have been built and renovated in Kotayk region.
VivaCell-MTS (MTS Armenia CJSC) is Armenia's leading telecommunications operator, having the widest network reach and spreading a wide range of Voice and Data services all across Armenia. Having the best of the Armenian people interest at heart since its launch on 1st July 2005 and in a short period of time VivaCell-MTS has managed to build a nationwide network and a considerable customer base. VivaCell-MTS drives innovation and aims at always being at the forefront of any development serving the Armenian mobile communications market. The company follows the guidance provided by ISO 26000 (International Standard of Social Responsibility) and ISO/IEC 27001:2013 (Information Security Management System). For more information, Visit www.mts.am
Mobile TeleSystems PJSC ("MTS") is the leading telecommunications group in Russia and the CIS, offering mobile and fixed voice, broadband, pay TV as well as content and entertainment services in one of the world's fastest-growing regions. Including its subsidiaries, the Group services over 100 million mobile subscribers in Russia, Ukraine, Armenia and Belarus. Since July 2000, MTS' Level 3 ADRs have been listed on the New York Stock Exchange (ticker symbol MBT). Additional information about the MTS Group can be found at www.mtsgsm.com
Fuller Center for Housing Armenia is a non-governmental, charitable organization that supports community development in the Republics of Armenia and Artsakh by assisting in building and renovating simple, decent and affordable homes, as well as advocating the right to a decent shelter as a matter of conscience and action. FCHA provides long-term, interest-free loans to low-income families. The monthly repayments flow into a Revolving Fund, which is used to help more families, thereby providing a financial foundation for sustainable development. Since 2008 the Fuller Center for Housing Armenia has assisted about 800 families. For more information, please visit www.fcharmenia.org or email us at [email protected]
AMD Rates
09:10 22/11
Buy
Sell
AMD / USD
475.50
477.50
AMD / EUR
525.00
530.00
AMD / RUR
7.44
7.47
dollars
dollars
BTC/USD
7578.00784742
-4.83%
ETH/USD
159.803453975
-6.16%
BCH/USD
223.384199242
-5.67%
XRP/USD
0.2419287426
-1.92%
LTC/USD
50.5535960242
-4.42%
BTC
136,865,073,581
-4.82%
ETH
17,362,111,461
-6.15%
XRP
10,475,486,856
-1.92%
Molybdenum
21164.00
-1.03%
Dow Jones
27766.29
-0.20%
Hang Seng
26466.88
-1.57%
CBA Interest Rates
Refinancing
Refinancing Rate
5.50
+0.00
Lombard Repo
Lombard Repo Rate
7.00
+0.00
Macroeconomy
CEA
Coefficient of Economic Activity
+7.10%
Ind. Prod.
3
Volume of Industrial Production
1,444.4
+9.70%
Avg. Salary
2
Average salary
178,633
+5.90%
Services
3
Volume of services
1,476.8
+15.50%
Construction
3
Volume of construction
251,836
+4.40%
1 - mln AMD, 2 - AMD, 3 - bln AMD