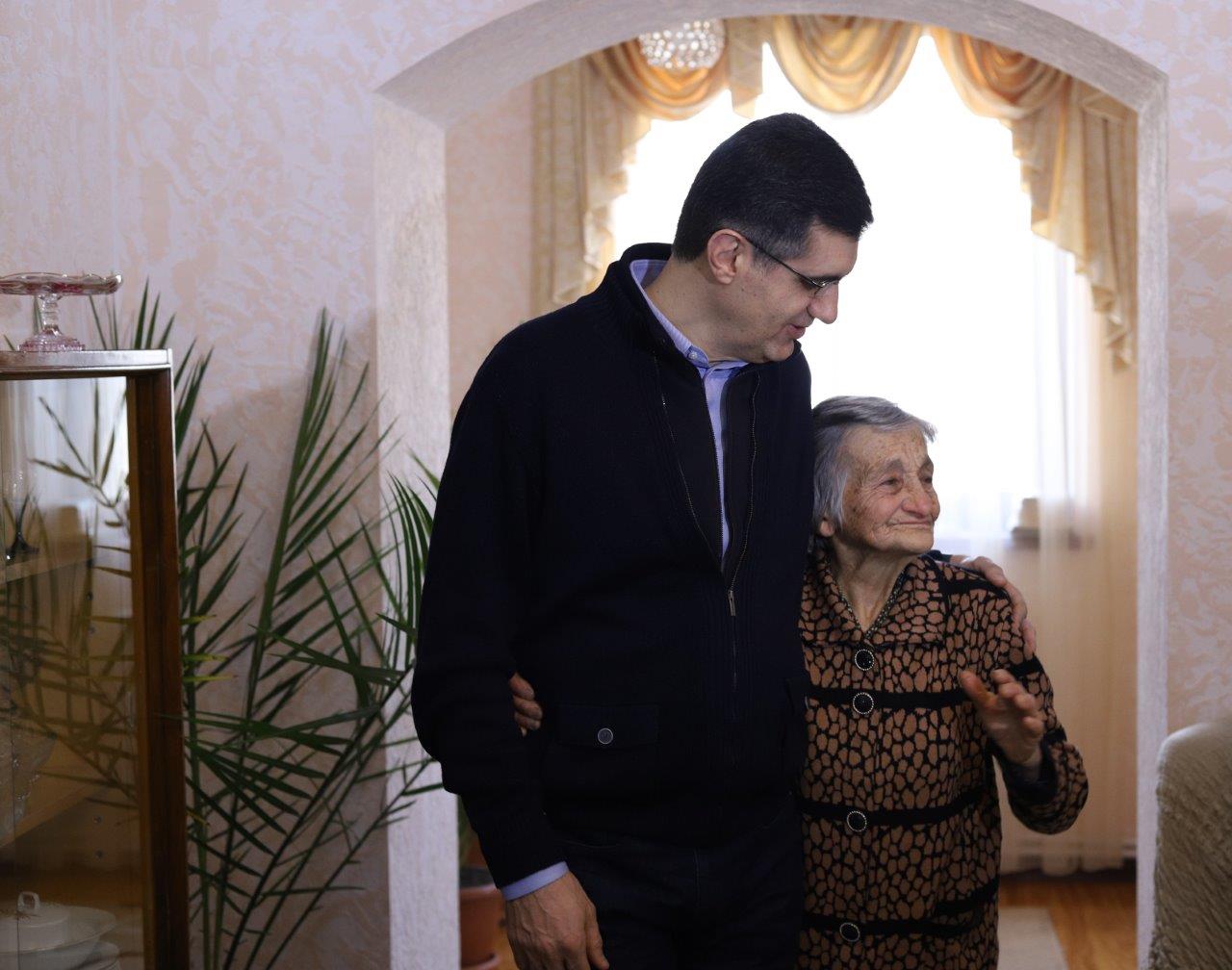 25/02/2020 19:32
Viva-MTS: Metal Shelter Became Farmer's Warehouse
One more family left the metal container house in Gyumri. Viva-MTS and the Fuller Center for Housing Armenia continue to contribute to this cause. The metal container that used to be a house with upsetting conditions for life for 35 years is now repurposed into a warehouse to serve to the family engaged in farming. The heads and teams of organizations implementing the house-building project celebrated housewarming with the Yedigaryan family.
Like many others, this family, too, was left homeless after the devastating earthquake of 1988. The Yedigaryans were forced to live in the metal container for many years. The family's grandmother, Tamara, has gone through many difficulties. She lost one of her sons during the earthquake, and the second one died in Nagorno-Karabakh war. Tamara's third son has health problems.
After many years of difficult life in a metal container, the Yedigaryans were able to purchase an apartment, but because of numerous social and health problems, they were unable to renovate it and to create proper living conditions.
In 2019, the family was involved in the housing project implemented by Viva-MTS and the Fuller Center for Housing Armenia. After several months of construction, the family's dream of many years has now come true.
"After so much trouble and suffering, it seems the light is shining. We celebrate the housewarming of our new home with new hope and faith. Thank you for your support," said Tamara.
"This program makes everyone happy: the family fulfills its long cherished dreams, and the supporting organizations achieve the task set before them. I am glad to state that the metal container with all its inconveniences will no longer morally depress those who used to live in it. Moreover, it will serve to an important purpose for a family engaged in gardening. I also want to believe that only carefree days await this family in this new and bright house," Viva-MTS General Manager Ralph Yirikian said.
"Our organization, together with Viva-MTS, has been helping families to overcome poverty and difficult social conditions they have lived in for many years. In order to overcome the crisis, it is important for the family to have home of their own with decent conditions. The Yedigarians deserved to have such conditions. I am happy for this family," said Fuller Center for Housing Armenia President Ashot Yeghiazaryan.
-----------
Viva-MTS (MTS Armenia CJSC) is Armenia's leading telecommunications operator, having the widest network reach and spreading a wide range of Voice and Data services all across Armenia. Having the best of the Armenian people interest at heart since its launch on the 1st of July Y2005, and in a short period of time, Viva-MTS has managed to build a nationwide network and a considerable customer base. VivaCell-MTS drives innovation and aims at always being at the forefront of any development serving the Armenian mobile communications market. The company follows the guidance provided by ISO 26000 (International Standard of Social Responsibility) and ISO/IEC 27001:2013 (Information Security Management System). For more information, visit www.mts.am
Mobile TeleSystems PJSC ("MTS") is the leading telecommunications group in Russia and the CIS, offering mobile and fixed voice, broadband, pay TV as well as content and entertainment services in one of the world's fastest growing regions. Including its subsidiaries, the Group services over 86.8 million mobile subscribers in Russia, Armenia and Belarus. Since June Y2000, MTS' Level 3 ADRs have been listed on the New York Stock Exchange (ticker symbol MBT). Additional information about the MTS Group can be found at:www.mtsgsm.com
Fuller Center for Housing Armenia is a non-governmental, charitable organization that supports community development in the Republics of Armenia and Artsakh by assisting in building and renovating simple, decent and affordable homes, as well as advocating the right to a decent shelter as a matter of conscience and action. FCHA provides long-term, interest-free loans to low-income families. The monthly repayments flow into a Revolving Fund, which is used to help more families, thereby providing a financial foundation for sustainable development. Since 2008 the Fuller Center for Housing Armenia has assisted over 800 families. For more information, please visit www.fcharmenia.org or email us at [email protected]
Ucom
- broadband connection starting at AMD 6,000
AMD Rates
08:55 09/04
Buy
Sell
AMD / USD
490.00
495.00
AMD / EUR
536.00
538.00
AMD / RUR
6.51
6.74
dollars
dollars
ETH/BTC
0.02336331
+0.48%
BCH/BTC
0.03630817
-2.41%
XRP/BTC
0.00002728
+0.37%
LTC/BTC
0.00629872
+0.42%
Molybdenum
17747.00
+0.00%
Dow Jones
23433.57
+3.44%
Hang Seng
24300.33
+1.38%
CBA Interest Rates
Refinancing
Refinancing Rate
5.25
+0.00
Lombard Repo
Lombard Repo Rate
6.75
+0.00
Macroeconomy
CEA
Coefficient of Economic Activity
+8.90%
Ind. Prod.
3
Volume of Industrial Production
299.57
+15.30%
Avg. Salary
2
Average salary
190,468
+10.4%
Services
3
Volume of services
305.24
+11.20%
Construction
3
Volume of construction
26.97
+5.80%
1 - mln AMD, 2 - AMD, 3 - bln AMD